13:27 And we're signing off.
The survivors.
Thanks all for reading along overnight, first with Stephen Bush and then with me, Stephanie Boland, with analysis from the whole team here:
Helen Lewis  @helenlewis
George Eaton @georgeeaton
Stephen Bush @stephenkb
Jonn Elledge @jonnelledge
Ian Steadman @iansteadman
Caroline Crampton @c_crampton
Anoosh Chakelian @AnooshChakelian
Stephanie Boland @stephanieboland
Barbara Speed @bspeed8
Anna Leszkiewicz @annaleszki
We'll keep posting updates as they come in on The Staggers and you can follow us @thestaggers and @newstatesman.
See you soon, all.
13:19 As we wind down this liveblog, it's all about looking ahead: to the Labour leadership question; to the sort of action Miliband gestured to in his speech; to asking what will happen with the EU, with cuts, with social welfare.
13:17 "That's it, he'll go down in Tory history."
"Cameron in the same bracket as Macmillan? Oh, my god."
– conversations in the office right now
13:16 David Cameron is calling this a country with "compassion" and "humour".
You'd better hope so.
13:14 Some more thoughts from Stephen – on Harriet Harman:
Harriet Harman stepping down really sums up what a rout it is for Labour. As a politician she's done more to remake the Labour Party than any other politician – even Tony Blair and Gordon Brown, New Labour's architects, have had less of a lasting effect. There's a reason why Labour lead in terms of women MPs, and that reason is Harriet Harman.
and on Cameron's speech now: 
David Cameron's victory speech is more hostage video than triumph. Having stood on a manifesto largely designed as a negotiating stance with the Liberal Democrats, you wonder: is he actually going to do all of this stuff? And how?
13:13 David Cameron is speaking. "Our manifesto is a manifesto for working people."
As a majority government they except to be able to deliver. He's promising tax cuts, home ownership, job creation – "and yes, we will deliver that in out referendum on our future in Europe."
"We will govern as a party of one nation . . . that means ensuring this recovery reaches all parts of our country."
The "Northern Powerhouse" line again. I can only imagine how this is going down in the North East.
13:12 George Eaton has written on Miliband's resignation: "Miliband stands by his argument in defeat"
In his speech, Miliband urged his party to preserve the unity that was the one of the achievements of his leadership – continuing to "disagree without being disagreeable". But there are some in Labour who feel that they now need to have the all-out intellectual confrontation that has been ducked over the last five years. Only through heat, the logic runs, will light finally emerge.
13:08 More thoughts from Stephen, who is currently gazing into the void of the Labour leadership:
Tom Watson the man to beat for the deputy leadership. Difficult to see who the other candidates are – perhaps Rachel Reeves or Caroline Flint. 
13:07 Her statement: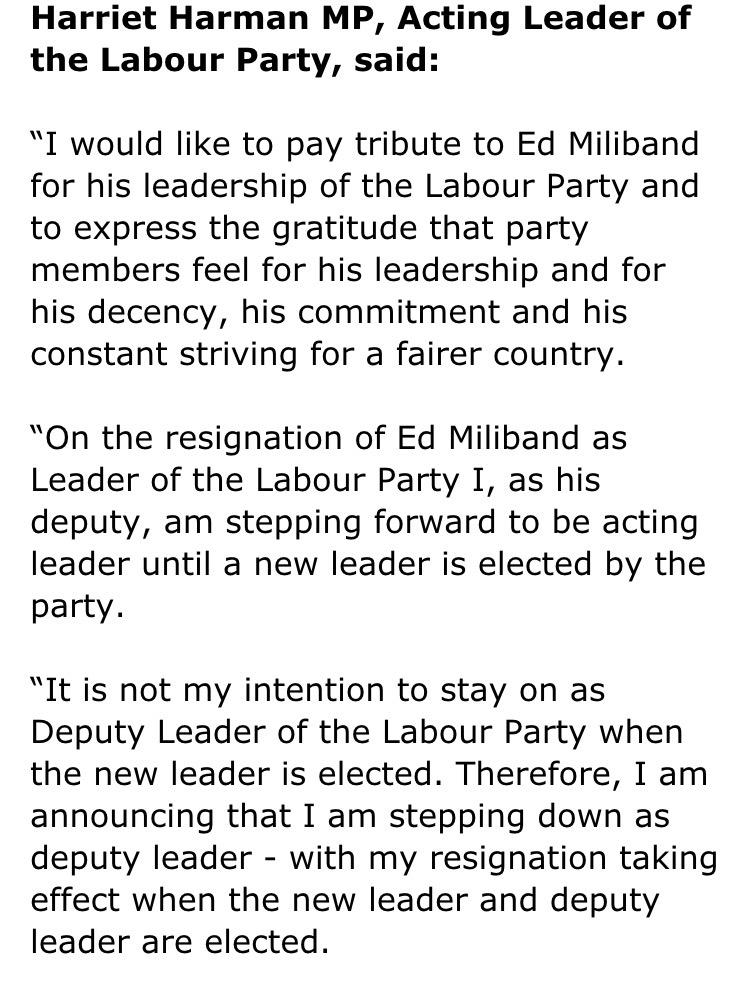 13:06 Oh, Christ. Harriet Harman is also stepping down as deputy leader once her time as a caretaker is over.
13:02 Stephen Bush is back! He's got a fancy smoothie and is ready to go once more unto the breach, friends.
A thought. The Labour campaign strategy worked. They were obsessed with destroying the Liberal Democrats, attacking them as collaborators, driving down their vote. And they succeeded. The Liberal Democrats have suffered their worst result since 1970. But they did nothing, really, to drive down the Tory vote. And the consequences can be seen in today's seats. The Liberals, vanquished. But the Tories more powerful than ever.
13:00 Whew, okay. As Cameron returns to No 10, Helen Lewis is shortly on the BBC World Service. 
12:57 There's six seats left to declare. A special shout out to any readers in Kenilworth & Southam, St. Ives, Warwick & Leamington, Blyth Valley, Berwick-upon-Tweed and Hexham.
You must be getting bored of this.
12:48 This is discouraging, from the magazine: "Regressive politics: George Osborne wants to shrink the state to pre-1945 levels"
Keegan shows that the Chancellor's aim is not really to reduce the size of the Budget deficit. It is to reduce the size of the state, with the focus of Tory austerity on the same welfare budgets – for the poor and the disadvantaged – whose foundations were laid during that postwar austerity.
(Yes, this has now become a post-election depression liveblog.)
12:40 Labour has now lost every seat it gained in 1997 except for one.
Guesses? Anyone? Bueller?
12:36 And that's it. The Tories are over the line with 326 MPs.
We're with you for the last few seats. Here's a wee round up from the Guardian:
Lab hold Luton South with a 13.5% majority 

Lab hold Batley & Spen with a 12.0% majority 

Con hold Devon Central with a 39.1% majority 

Lab hold Luton North with a 22.3% majority 
12:29 All the discussion in the office right now is about what's going to happen to the poorest in society under the new government. Heartened by all the charities and activists rallying this morning, but there's a lot still to find out about where cuts will fall – and how easily legislation will pass.
12:23 Of course, question number one is. . . Who will succeed Ed Miliband as Labour party leader? 
We've got a list of the hopefuls with their strengths, weaknesses and analysis from Anoosh here.
12:21 Miliband on rare form there. We'll have more soon, but in a personal capacity, you do have to wonder – if he'd spoken like that from the start. . .
12:20 Leading the party "has never been the only way to achieve change". It is "people who make change happen . . . I will never give up on fighting for the Britain I believe in."
"That fight will always be my fight. That cause will always be my cause. I will always be there in that cause with all of you."
12:19 Miliband:
"I joined this party aged 17. I never dreamed I would lead it. It has been an incredible force for progress . . . and yes, it will be a force for progress and change once again."
"I thank all of you today. I am truly sorry I did not succeed. I did my best for five years. Now you have to show your responsibility."
"We've come back before and this party will come back again."
12:16 Ed says thank you for the "selfies" and gives a shout out to the Milifandom.
Their leader Abby is presumably having kittens right now.
12:15 MILIBAND HAS RESIGNED
Ed Miliband resigns as leader of the Labour party effective after the VE commemorations today.
"Harriet Harman is the best deputy leader anyone can hope for". She will take over until a new leader is elected.
Ed is looking forward to re-acquainting himself with his family, but first, he wants to say a few things.
Stand by.
12:13 Miliband congratulates candidates who will help "take our party forward". He thanks those who ran the campaign, which was the most "cohesive and enjoyable" he's been involved in. 
"I want to thank all of you, the incredible team of the Labour party."
12:12 "Thanks for your kindness, friends. Friends, this is not the result…" 
Back-to-back "friends". This is bad.
12:07 The Guardian map with the latest results is good for two reasons:
1. It reminds you that there is not as much blue as it maybe feels like there is right now; lots of the North/London/Wales is still red
2. It makes the UK look like it's got serious junk in the trunk
Source: The Guardian
12:05 It hurt our feet and now it's hurting our hearts: a Lego mock-up of the new House of Commons.
Mashable's exclusive Lego Parliament tells it like it is: Huge win for UK Conservatives. http://t.co/bktgEWob2Z pic.twitter.com/RJVftSQ2Zo

— Jim Roberts (@nycjim) May 8, 2015
12:02 BBC talking about the Tory/Labour scaremongering of the SNP. Treated them like "Celtic hoards".
Haha, "Ajockalypse Now". That's quite good.
11:54 For god's sake, Buzzfeed, we're trying to hold it together.
I am Jack's complete numbness. If Headlines Expressed What Labour Supporters Really Feel: http://t.co/dWKxK7iLlw pic.twitter.com/C2q4wlgVM1

— Bim Adewunmi (@bimadew) May 8, 2015
11:49 And back to the seats: 9 more to come.
11:48 Some first thoughts from our team on Clegg's resignation and the rather steep decline of the Lib Dems:
Reason for Lib Dem collapse very simple: ran to the left of Labour for years and then formed a coalition with party to the right.

— George Eaton (@georgeeaton) May 8, 2015
Former Liberal leader David Steel looks sad, says this has set liberalism back "decades I expect" #GE2015

— Anoosh Chakelian (@AnooshChakelian) May 8, 2015
11:41 "Our party will win again": Clegg lays down the challenge for his successor. 
Who will replace Nick Clegg? Here are our suggestions.
Once Clegg has gone, who will lead the much-reduced Lib Dems? There are two likely candidates: Tim Farron [and] Norman Lamb.
11:38 "Liberalism . . . is not faring well against the politics of fear."
The politics of identity, nationalism, and "us vs them" are now on the rise. "The beguiling appeal of Scottish nationalism has swept all before it", and "south of the border a fear about what that means" has boosted English conservatism.
Clegg expresses the hope that leaders across the UK recognise the "dangerous consequences" of appealing to "grievance rather than generosity, and fear rather than hope".
"The cruellest irony of all: it is exactly at this time that British liberalism, that fine, noble tradition, that believes we are stronger together" has fallen.
11:37 Clegg claims Lib Dem credit for job creation, better mental health care, education, equal marriage: "I hope at least our losses can be endured with a little dignity."
"There can be no down that the government of Britain is far stronger . . . and more liberal country than it was five years ago."
However unforgiving the ballot box has been, Clegg believes the history books will judge them kindly.
"To have served my country at a time of crisis is an honour that will stay with me forever."
11:31 NICK CLEGG HAS RESIGNED
Clegg says he "always expected this election to be exceptionally difficult for the Liberal Democrats" given the coalition, but the results have been "more crushing" than he expected.
For this he must take responsibility, and thus is resignining.
11:27 Lots asking what the turnout was in this election. Pinched this from the BBC:
With over 630 seats counted turnout at this general election is 66.1%. This compares with 65.1% in 2010.

Turnout has been particularly high in Scotland at 71.1%, as the map below shows. With all the seats in Scotland declared the Scottish National Party has made historic gains and has taken all but three seats.
The full piece is over here with a constituency-by-constituency breakdown.
11:26 The BBC just caused Nigel Farage's resignation a "Vicky Pollard resignation". The qestion now is if he's going to step down from leading Ukip.
11:22 It's quieting down a bit – for now. Our Stephen Bush is on the BBC world service on and off until 12, though, if you need your fix.
11:20 I'm out of clever comments. Urgh urgh urgh.
UKIP is now second in 118 constituencies

— Andrew Cooper (@AndrewCooper__) May 8, 2015
11:16 From Barbara, some analysis of this election's new BME MPs:
Overall, that gives us 41 BME MPs. This equates to 6.6 per cent of the House of Commons, compared to around 14 per cent in the population at large. In 2010, the total was 27; while in 2005 it was 15. That means that this parliament has increased 2010's record by 51 per cent.
Read the full piece here.
11:11 Jim Murphy on the Beeb: "Scottish Labour are waking up after a dreadful night for our party" and "worse, a terrible night for Scotland".
He refers to the "emotional hangover" of the referendum and the challenge he's faced.
For those catching up, Jim Murphy lost his seat to the SNP's Kirsten Oswald.
11:04 News from our man in Thanet.
Marching off stage before other candidates have spoken – terrible end to a poor campaign from farage

— Tim Wigmore (@timwig) May 8, 2015
Will Scobie, the Labour candidate, said he was "incredibly disappointed one candidate didn't have the respect to listen to the other candidates".
Tim is off to the Farage press conference. More as it comes!
11:02 Interesting thought here: in Scotland, people were fired up enough to vote for the SNP regardless of the candidate. That wasn't true in England.
Those of us who went out to the marginals really noticed it.
10:58 It's amazing how fast people are responding. Amongst rumours that companies from Foxton's to Sports Direct are seeing their share prices respond positively to the Tory victory, there's also charities like Arts Emergency rallying in the face of expected cuts. 
10:51 Here's Anoosh on Farage, who has failed to win a seat:
Farage has said in the past that he would resign as Ukip leader if he didn't win a seat. He hasn't specifically referred to this yet, but did say he felt "an enormous weight" lifted from his shoulders.

In his speech, Farage said he was proud of Ukip moving from being the party of "retired old colonels" to "suddenly" being "the party for under-30s, particularly young working women".

He decried the fact that his party, which has won 4m votes as well as the Euros last year, has ended up with one seat, and called for "radical" voting reform.

"On a professional level, I feel an enormous degree of disappointment – on a personal level, I feel an enormous weight has been lifted from my shoulders, I've never been happier," he added.

He was defeated by the Tory candidate, Craig Mackinlay, who is a former deputy Ukip leader. There was an 18 per cent swing from Tory to Ukip in Thanet South. There was a similar swing in Rochester & Strood and Thanet North.
10:49 But: he thinks Miliband ran a good campaign and united the party. The problem was the public had made their minds up.
Here's Danczuk in interview with Ashley Cowburn in March.
"You get it on the doorstep. If we're having a straight conversation about this, he [Miliband] has an image of being more of a toff than David Cameron. That's how the public see it. And what they mean by that is that he's seen as more aloof. They'd prefer to go for a pint with David Cameron than they would with Ed Miliband, that's the reality of it."
10:47 Simon Danczuk is up. He's being asked to comment on Ed's tweets.
"Well, I've always taken the view if you were leading an organisation . . . then leadership is all about making the decisions. And yes, I do agree with it. He put the personnel in place . . . he decided what policies we should go hardest on and what those policies should be."
The "buck stops" with Miliband.
10:45 Ed has spoken to his staff. More updates as we have them. . . 
I've just thanked Labour's staff. They are a credit to our party, and, driven by a passion to serve, they are a credit to our country.

— Ed Miliband (@Ed_Miliband) May 8, 2015
I am grateful to the people who worked on our campaign and for the campaign they ran. The responsibility for the result is mine alone.

— Ed Miliband (@Ed_Miliband) May 8, 2015
Caroline thinks he shouldn't be tweeting at this time but "thinking long and hard about the future of the Labour party".
10:37 Everyone here came out of their offices to watch that one.
YES. I did a big cheer for the Conservatives. I think that's the first time that's ever happened #ThanetSouth

— Caroline Crampton (@c_crampton) May 8, 2015
10:36 318 votes for Al Murray. Cameras are still on Farage.
He doesn't seem to be applauding the other candidates.
10:35 Nigel Farage has NOT won Thanet. Tory candidate is circa 2,000 votes clear.
10:31 We're at Thanet. Farage is smiling rather nervously.
10:26 Sky has some encouraging news about young voters: they exist! More than ever!
The number of 18 to 25-year-olds who cast their ballots is 58%, up from 52% in 2010 and 38% in 2005, Sky News reveals.
Well done, young folks. We're great.
10:20 Al Murray is no longer on screen. Lord Reid now commenting on the Labour defeat; apparently it's "not because of any particular deficiencies".
He's also using a nautical metaphor but I think we're all a bit exhausted.
10:19 Al Murray's on screen. 
10:18 Ukip do have a much higher share of votes than they do seats. Check out Anna's graphic here.
10:12 Farage is arriving at the Thanet count. He's talking about the distinction between seats and votes: "I think the desire for change will be very strong after this  . . . [but] the establishment will not want change."
Farage thinks Ukip supporters will be very pleased at the number of votes the party have managed to accrue, and notes that social media and the under 30s have been an important part of their support.
"What we'll see now is a very young, very active political force."
10:05 Just joining us? Good morning. The BBC is predicting a Tory majority at 329.
As things stand now, the bottom of the screen looks like this:
Con 321
Lab 228
SNP 56
LD 8
DUP 8
Ukip 1
Greens 1
09:59 Our latest contributing writer Owen Jones notes a possible reason for the SNP surge. . .
In Scotland, Labour are being massacred by a party that positioned itself with a populist, left, anti-austerity message

— Owen Jones (@OwenJones84) May 8, 2015
09:57 It's good to see the Guardian showing empathy at this difficult moment.
Don't worry, Ed. We understand too.
09:55 There are fifteen seats to go. Wells, St Ives, Wansbeck… Thanet South.
09:51 Meanwhile, more results rolling in from the marginals. 
Con win Derby North with a 0.1% majority
Lab hold Halifax with a 1.0% majority
Con hold Bedford with a 2.4% majority
09:50 A big theme in this election both sides of the border has been the failure of Westminster politics. This may be the most damning indictment yet.
Genuine count source: 'There's a record number of prick drawings on the spoiled ballot papers, one person did a prick in every box'

— Richard Osley (@RichardOsley) May 8, 2015
09:44 Also no comment, but for very different reasons. This from Josie Long on twitter:
I made myself a list to try and get through the next couple of days. It's a bit wank. Feel free to use it too though! pic.twitter.com/sdl5OJRkmz

— Josie Long (@JosieLong) May 6, 2015
09:43 No comment.
Iain Duncan Smith on BBC News now is saying how much he is looking forward to carrying on welfare reform. A dark day for many, many people

— Dan Silver (@DanSilverSARF) May 8, 2015
09:41 The BBC has footage of Cameron addressing supporters. He names prior Tory wins before naming this the "sweetest victory".
I think Anoosh might be dying behind me.
09:40 More front page fun as Hugo Rifkind, who came out for Labour in The Times, comments on the Mirror. . .
You can get the whole story of last night from the front pages of the first and second editions of the Daily Mirror. pic.twitter.com/I6gnubTYVR

— Hugo Rifkind (@hugorifkind) May 8, 2015
09:39 Miliband arrives to staff applause. BBC remind us "this is not a victory".
Ta.
09:35 Ed Miliband is heading to Labour HQ, where we expect he'll address staff and announce his resignation.
09:32 From the chief reporter at The Herald:
As SNP surge, more than 4 out of 5 Scots waking up for a UK govt they didn't vote for: http://t.co/w78y23Gq2m pic.twitter.com/I7pyYDQdHB

— David Leask (@LeaskyHT) May 8, 2015
09:30 More silver linings. . .
Right, enough recriminations and self-pity. Have just joined the Labour Party.

— Eddie Robson (@EddieRobson) May 8, 2015
09:28 In James Joyce's Ulysses, Leopold Bloom wonders if you can cross Dublin without passing a pub.
Today, you can cross London without stepping off Labour territory.
09:25 Helen clears it up:
@AnooshChakelian Eldritch is not a place. No capital letter. (Maybe you're thinking of Droitwich?)

— Helen Lewis (@helenlewis) May 8, 2015
09:24 BREAKING: Ed Miliband is to resign as Labour leader. Waiting on more info.
09:19 How's everyone holding up at home?
Apparently the sweet, good people of the People's History Museum in Manchester are serving bacon sandwiches. Oh, oh.
09:18 From Anna, here's the vote share based on the first 612 seats:
09:15 It's probably giving him little pleasure right now, but Stephen posted this on "Are Labour losing?" this week:
One organiser sent me a text that summed up the overall message: "Dude, where's my swing?"

"The only way I can explain our promise," said another, "is if there is barely any swing at all."
09:14 They keep replaying that Vince Cable clip where the microphone reverb makes him sound like an Eldritch horror.
(Does Eldritch have a capital E? It's not in our style guide for some reason. Helen?)
09:11 In 1997, apparently all the New Statesman staff went out and had champagne with breakfast.
Caroline's pouring some orange juice.
09:06 A great graphic of those female MPs from Barbara:
This parliament's (slightly) improved female representation, based on 623 seats so far pic.twitter.com/Yb2fYIDIWN

— Barbara Speed (@bspeed8) May 8, 2015
09:03 "Why did Labour lose so badly?"
George's post is up:
[A] fierce debate will now take place within the party over whether it lost because it drifted too far from New Labour or rather did not drift far enough. Those from the party's right will point to Miliband's refusal to state that the last government spent too much (failing to "concede and move on" in the Philip Gould's phrase) and to act earlier to reassert Labour's fiscal probity (spending years opposing every cut in sight). But those on the left will criticise his decision to promise to moderate austerity, rather than to end it. In the absence of a clearer dividing line between the Tories and Labour, voters hungry for an alternative to the coalition were drawn to the SNP, Ukip and the Greens.
08:59 Caroline: Oh no! Ed Balls day is going to be so sad now.
Anoosh: It's going to become like a memorial.
Anna: Today is the new Ed Balls day.
Ed Balls

— Ed Balls (@edballsmp) April 28, 2011
Never forget.
08:57 Latest update on women in Parliament: 
Update: Out of 615 seats, 172 women – so about 28% female parliament. Better than 23% 2010, bt much lower than would have been with Lab win

— Barbara Speed (@bspeed8) May 8, 2015
Oh for god's sake.
08:55 Oh GOD this is just going from bad to worst. I'm currently agreeing with Nigel Farage:
"I just think nothing will change. I think they'll go on running massive budget deficits. I don't think very much is going to change."
08:53 Gently suggested George go to bed.
He replied wishing he was asleep and this a nightmare.
08:52 It is Godfather bad.
Gordon Brown must feel like Don Corleone after losing Sonny: "Look how they massacred my boy[s]".

— George Eaton (@georgeeaton) May 8, 2015
08:50 Sturgeon asked on referendum, replies she won't be discussing her 2016 manifesto the morning after the 2015 manifesto.
But this referendum "was not about independence". "I said to people if they voted SNP, I wouldn't turn around . . . and say this was a vote for independence".
08:49 Oh good, the housing salt is here for the gaping election wound.
Foxtons shares open up 12% as the market anticipates renewed London housing boom thanks to Tory election win

— Kate Allen (@_Kate_Allen) May 8, 2015
08:48 Sturgeon is on the BBC saying the SNP would have worked with Labour. "They can't blame the SNP for their failure to be strong enough to beat the conservatives".
08:45 Country waking up proper now. Lots in tears on twitter; lots rallying for activism. (My twitter feed is biased.)
08:44 George: "Balls tipped me over the edge. I thought he was going to be Chancellor yesterday. Now he's not even an MP".
The thing is, most of us on the NS staff will be okay and can financially survive this. But we know plenty can't. "Is this the UK?"
08:44 The Lib Dems have so few seats the BBC graphic right now hasn't even bothered to touch their octagon.
08:42 Radical publishing house Verso, who publish books by folks like John Berger and Slavoj Žižek, is taking this well.
He has us all in his vice-like grip now https://t.co/b9uIWIIhCO

— Verso Books (@VersoBooks) May 8, 2015
08:41 The Times social media round up includes this gif. Cannot. Stop. Watching.
08:38 Caroline reassures us all with the reminder that we're yet to hear from Thanet and will probably get to see Farage lose.
Surprisingly, it helps.
08:36 Ed is on his way to Labour HQ in London. BBC says staff are arriving "ashen faced". General feeling is a resignation is expected.
Our cardboard Ed fell hours ago.
08:34 Good point from George. The party line seems to be mentioning the union in concession speeches, but there's lots of reasons Labour have lost out:
The big problem for Labour is that they're losing votes in all regions for different reasons – no obvious strategy to address them all.

— George Eaton (@georgeeaton) May 8, 2015
08:33 The BBC news is talking about everyone moving on and "getting back to their day jobs".
Nice for some.
08:31 From a rather stunned Anoosh, who will miss Ed Balls' dancing at party conference:
In the most shocking defeat for Labour this election, Ed Balls has lost his seat.

The shadow chancellor, and prominent Labour figure, lost Morley & Outwood to the Tory candidate, Andrea Jenkyns, with a result of 18,354 votes to 18, 776.

It wasn't expected to be a tight race, but the close results were revealed when a recount was requested on Friday morning.

It was clearly Ukip votes that killed off Balls's win. Ukip came third with 7,951 votes.

Balls, in a sombre speech, congratulated his "political opponents" in Westminster and praised Jenkyns on her campaign. He said "any personal disappointment I have is as nothing compared to the sorrow I have" for the Labour party's national result.

He spoke of a "sense of concern I have about the future", adding: "We will now face a five years where questions will arise about our future of the Union."
08:30 This from the CEO of YouGov…
A terrible night for us pollsters. I apologise for a poor performance. We need to find out why.

— Stephan Shakespeare (@StephanShaxper) May 8, 2015
Aye, not the best.
08:25 From our editor Jason Cowley:
Now Ed Balls has gone. A massive figure cut down. The absolute end of the Balls-Miliband era. Ukip eating up Lab votes in the north. #GE15

— Jason Cowley (@JasonCowleyNS) May 8, 2015
08:24 "I am confident Labour will be back".
Huw's impressed with the speech too.
08:21 Ed Balls graciously congratulating the Tories and his opponent, as well as the counting staff. He says his disappointment with this result is nothing compared to the "sense of sorrow" at Labour's returns tonight, and his "concern" for the future. "Questions will arise" about the EU; about Scotland; about the NHS. 
A very elegent concession speech.
Personally, I warmed to him here:
I remind him of another auspicious date that is approaching: Ed Balls Day. The occasion is named after the moment on 28 April 2011 when, while searching for an article about himself, Balls accidentally tweeted his own name. When the anniversary falls, Twitter is deluged with identical messages. This year's will be celebrated on the same day as the final pre-election GDP figures are released.

"I've no idea what to make of it," Balls says. "It's obviously helped by the fact that I have a memorable name ["If you think it was bad for me, think how it was for my sister, Ophelia," Balls is fond of joking].
08:20 Here's the first thoughts from our team:
Ed Balls' seat: another seat where Labour is badly hurt by Ukip #GE2015

— Tim Wigmore (@timwig) May 8, 2015
Ed Balls a big loss to the Commons – even some Tories concede that he was the top economist in the House.

— George Eaton (@georgeeaton) May 8, 2015
08:17 It's official: The Tories have taken Ed Balls' seat. Mass wincing in the office here.
Poor Ed is very graciously shaking Andrea Jenkyns' hand. This is a huge moment.
Here's our George Eaton's interview with him from March.
08:13 Huw says the Ed Balls result is coming, and they hear he's in "a bit of trouble".
08:10 A really good idea if you've not gone to bed yet is to read this list of potential welfare cuts at the Guardian. 
From BBC Newsnight's Economics Correspondent:
No coalition partner to appease = no watering down. So we get to see where £12bn of welfare cuts are coming from.

— Duncan Weldon (@DuncanWeldon) May 8, 2015
08:08 Lots of unsurprising results coming in: Labour hold Hackney South & Shoreditch with a 50.9% majority, George Osborne holds Tatton with a 40.3% majority.
08:05 Cameron back in Downing Street; we're waiting to hear more from Ed. This from earlier:
Labour HQ source: "Ed has to resign tomorrow. Everyone here accepts that."

— George Eaton (@georgeeaton) May 8, 2015
07:59 Paddy Ashdown alert!
The BBC have just handed him a hat to eat. Get it? Get it? Guys?
07:58 "OH MY GOD"
Caroline has just realised Iain Duncan Smith will likely still be a minister. 
We do actually have a shock blanket somewhere. . .
07:54 Fraser Nelson of the Spectator is on the BBC saying the SNP surge doesn't necessarily reflect a vote for independence. Says Cameron is wise "to start fighting . . . right now" – it may not be long before the second referendum.
07:46 Barbara just came over to add that currently the Tories are only a 14% female parliamentary party. 
There are 31 million men and 32.2 million women in the UK.
07:45 Anoosh has been "looking at the greenery" (her words; I make my own hummus):
Prepare the quinoa! Release the battery hens! For the Greens have held Brighton Pavilion!

Caroline Lucas, MP for Brighton Pavilion, added 11 per cent to her vote share, receiving 22,871 votes to Labour's 14,904. It looks like the Green council's problems in Brighton did nothing to diminish her popularity.

And although the party narrowly missed out on their 2nd target Bristol West, their candidate Darren Hall still received the largest swing in the constituency's electoral history (23 per cent). Plus, as I've mentioned before, the leader Natalie Bennett went from fourth to third in Holborn & St Pancras, with her votes rocketing from 1,480 (in 2010) to 7,013.

The Greens actually came second in four seats – pretty good going for a party that has never come second before.
07:44 If you were a student in 2010, you may enjoy this list of Lib Dems who have lost their seats from Anna.
07:40 A reminder – I'm avoiding watching George Osborne – that if you have any thoughts/tips/funny pictures you can tweet them at us! We're on @thestaggers or you can yell at me directly @stephanieboland
07:38 People on twitter are mentioning Grant Shapps, and the fact he won his seat.
No-one needs this right now.
07:35 I feel like this can't be real? Is it libel if I post this?
From the sounds of @georgegalloway's speech it seems he's starting to sound like his dictator chums pic.twitter.com/4g8H9fIqMf

— Eliot Higgins (@EliotHiggins) May 8, 2015
07:32 Since the Fawcett Society have gone off to bed, this from Barbara on female MPs:
We're analysing data on female representation in today's parliament. Based on the first 450 seats, we're looking at 29.6 per cent female parliament. That's a big increase on the current figure of 22.7 per cent, but we'll hopefully break 30 per cent by the end of the night. 
Incidentally, the New Statesman team providing coverage right now is five women and George.
Not so bad, less than a century after women's suffrage.
07:30 This from Anoosh:
Scotpocalypse is over! And the landscape in Scotland looks completely different (OK, there's still a lot of heather and, like, lochs, but you know what I mean). It's all gone SNP apart from one Lib Dem MP (Alistair Carmichael in Orkney & Shetland), one Labour MP (Ian Murray in Edinburgh South) and one Tory MP (David Mundell in Dumfriesshire, Clydesdale and Tweeddale). One more than there are pandas, at least… 
07:29 On a deathly serious note… intention to sever the UK from the European Court of Human Rights is in the Tory manifesto.
Close your eyes now if you want to keep Human Rights Act & stay in European Union – this is what Tory manifesto says pic.twitter.com/JjikJeMkqf

— Adam Wagner (@AdamWagner1) May 8, 2015
07:26 Jeremy Vine, who is still talking from a hellish CGI house of commons, has said the remaining Lib Dems could fit in "two London taxis".
This is presumably because black cabs have those two backwards seats. But with 8 MPs, the current Lib Dems could go in two "regular" taxis, as long as two of them sat next to the driver. 
There's a coalition joke in here somewhere.
07:25 The latest cheer from Thanet:
Boundary reform due in 2018 – so it's actually worse than it looks for Labour #GE2015

— Tim Wigmore (@timwig) May 8, 2015
07:22 Could Balls be dropped?
BBC reporting that Labour has requested the full recount in Ed Balls' Morely constituency. Must be very close indeed.

— Caroline Crampton (@c_crampton) May 8, 2015
07:13 If you're just joining us after a full night of sleep, some big names have lost their seats: Scottish Labour's Jim Murphy, the Lib Dem's Vince Cable, shadow Foreign Secretary Douglas Alexander – who has been taken out by a 20-year-old student – and hat-wearing nightmare George Galloway.
07:11 St Austell & Newquay claimed by the Conservatives. 
So far the South West is almost entirely blue. Only Exeter is a Labour hold right now.
07:09 The feeling here in the New Statesman office is that this may end up being good for the left; a "proper loss" might prompt some self-examination. Let's wait and see.
07:08 Huw Edwards is live with a diplomatically magenta tie. 
"After all the consistent messages of the opinion polls…" please don't remind us, Huw.
07:07 Intel from Brighton:
Hearing Caroline Lucas is "home and dry" from Green source.

— Anoosh Chakelian (@AnooshChakelian) May 8, 2015
07:01 Dimbleby out. That's it: Election night is over. It's now officially The Next Day.
Here's our verdict, from Anoosh.
It has been a disastrous night for Labour, which has lost all but one of its Scottish seats so far to the SNP. There has been an extraordinary 39 per cent swing from Labour to the SNP. It currently has the same number of MPs in Scotland as the Tories have: one. It has been a better night for Labour in London, gaining seats such as Bermondsey, Hornsey, Ealing Central and Ilford North.

This shock result is far removed from months of polls suggesting an inevitable hung parliament.
07:00 Man on the BBC: "the really interesting thing is this election is going to be over really soon".
To be fair, that may be one of the best things we've heard this morning.
06:55 Today in "sky is blue", "water is wet" style news, Stella Creasy has stormed it. This from Barbara:
Stella Creasy, incumbent Labour MP for Walthamstow, has won again with a massive 23,000 majority against Molly Samuel-Leport, the Conservative candidate. First elected in 2010 with a 9,500 majority, Creasy is a leading member of the successful campaign to better regulate payday loan companies which prompted cross-party support for an interest cap from April 2014.
06:51 p.s. I'm sorry you're waking up to this
06:48 For those just joining us – good morning! – here's the state of play:
Con: 240
Lab: 209
SNP: 55
Ukip: 1
LD: 6
Others: 21
06:47 Good comparison with previous years from George:
This election is being widely compared to 1992, when the final polls similarly showed Labour and the Conservatives tied but the Tories finished seven points ahead and won a majority of 21 seats. But it's worth remembering that they entered that election with a majority of 102 seats. That the Tories are forecast to have gained 19 seats (going from 306 to 325) makes this performance even more impressive.
06:44 "I think he's trying to be Obama".
Here's to a brighter future for everyone. pic.twitter.com/EeN0YFAvBm

— David Cameron (@David_Cameron) May 8, 2015
06:43 Oops.
eBay item for sale. Large stone. Some writing on the back, but otherwise in mint condition.

— Moose Allain (@MooseAllain) May 8, 2015
06:42 Apparently the Thanet count is running late because there's delays getting votes from Dover. 
So. Many. Jokes.
06:37 Folks are looking up the DUP. Here's George Eaton with leader Nigel Dodds back in February (which feels lifetimes ago right now):
It has more MPs than Ukip and the Greens combined, more than the SNP and more than Plaid Cymru – but the Democratic Unionist Party (DUP) has attracted none of the attention those parties have received in recent months. That, Nigel Dodds hopes, is about to change. Another hung parliament is now almost certain and the party's Westminster leader could play a decisive role in determining whether David Cameron or Ed Miliband commands a majority in the House of Commons.
And from yesterday, on what DUP would demand in a hung parliament. Those were happier times.
06:33 Since half of twitter seems to be on #thanetwatch: Tim is now saying another four hours.
06:32 Oooh, pass the Savlon. Someone just got burned:
Hallelujah. Mark Reckless out. Don't let the door hit your fat arse as you leave.

— Claire Perry (@claire4devizes) May 8, 2015
06:30 George on the Lib Dems:
One of the stories of the night is the Tories' remarkable performance against the Lib Dems, with big beasts Vince Cable, David Laws and Ed Davey all defeated. It's worth recalling what Angela Merkel told David Cameron when he asked her what it was like to lead a coalition before the 2010 election : "The little party always gets smashed!" she replied. And it has been.
06:28 Sleepless in Thanet: Tim Wigmore has this to say
I wonder how Lib Dems will look back at the Eastleigh by-election in February 2013 now. If they'd lost, that would probably have been it for Clegg's leadership. Instead they won, and it gave MPs confidence – which we now know was badly misplaced – that many could cling on in 2015 by running by-elections divorced from the national campaign. But look at Eastleigh two years ago again: the Lib Dem machine put everything into the by-election, and yet the party still lost 14% of its vote share, saved only by a split between Ukip and the Tories. How much better would they have done today had they lost Eastleigh then? It could scarcely have been worse. 
Follow him on twitter @timwig. He's braver than us all.
06:25 Alexander is talking about "keeping the flame of Liberalism burning".
Go to bed, love.
06:23 Some good number crunching from Tim in Thanet:
You need 3.5 million votes to elect a Ukip MP, but 25,000 to elect an SNP MP #GE2015

— Tim Wigmore (@timwig) May 8, 2015
06:23 Nevermind, this is the U ok Babe to end all U ok Babes:
Danny Alexander's brave face pic.twitter.com/gMqGVYsjs6

— Caroline Crampton (@c_crampton) May 8, 2015
06:22 Good thought from Caroline on Reckless: who is going to want to defect to Ukip now?
06:21 This from George (Eaton) on (George) Galloway:
On a disastrous night, Labour finally has a victory to cherish: George Galloway has been defeated in Bradford West by Naz Shah, who won a huge majority of 11,420. Few in any party will mourn the departure of the demagogic Respect MP from the Commons. 
Apparently he's going to run for mayor in Tower Hamlets. Urgh, can he not though.
06:17 Mark Reckless has gone. 
Maybe his campaign was heedless of danger or the consequences of one's actions; rash or impetuous. (Sh, I'm very tired.)
06:16 For those of you googling "do Sinn Féin take their seats?": no, they don't. Read our explainer post here.
06:14 This is rather good. Aisha Gill explained the importance of Naz Shah's victory in Bradford West in a piece for us earlier this week:
That is why Naz Shah's candidacy is so important to Bradford West. If the region's South Asian women are to gain the power and independence to which they are entitled, they must be encouraged to voice their experiences. The only way to escape the continuum of violence and oppression is to challenge the patriarchal biraderi (clan) politics on which Galloway has been capitalising in his efforts to discredit Naz Shah.
06:13 It's only a commitment to journalistic integrity that's making me post this.
Anoosh here – unsurprisingly my Tory sources are overjoyed. One CCHQ source says "to be honest, the Ukip ones give more joy than anything else". "Your boys took one hell of a beating," says a Tory aide. "I knew the national polls didn't make sense. This reminds me of 1992!" one veteran Tory MP texts. And one adviser just says, "Oh my daaaaaaays."
06:12 Here's the hot take from our man in Thanet:
Ye still waiting in Thanet South And no sign of it ending this side of 8am

— Tim Wigmore (@timwig) May 8, 2015
U ok babe?
06:10 Rumours come down the wire that the count hasn't started in South Thanet. WHAT.
06:09 The BBC are noting that Bethnal Green and Bow – my constituency, incidentally – has had a solid swing to Rushanara Ali. Call it the post-Galloway effect.
06:06 GALLOWAY LOSES HIS SEAT
There's jeering and cries of "no!" from the count but to no avail: it's sad fedora city, population George.
06:05 Eech, understatement here from poor Ed:
This has clearly been a very disappointing and difficult night for the Labour party. To every member and supporter, I want to say thank you.

— Ed Miliband (@Ed_Miliband) May 8, 2015
Just out of interest, if one gets up at 3am, what time is it acceptable to have a scotch?
06:03 This from Anna:
Lib Dem Julian Huppert has lost his seat in  Cambridge from Labour's Daniel Zeichner – with just 600 votes in it. Huppert won the seat in 2010 by nearly 7,000 votes, polling 39 per cent, while Labour only won a quarter of the vote. Here's what Huppert told May2015 editor Harry Lambert in November:

Huppert concedes coalition has been "very difficult". "I wouldn't have chosen our first time in government to be with the Conservatives." But, he continues, "It would have been much easier for us…to just say 'Oh we don't like that, oh that's very bad', but then we wouldn't have been able to… lift poorly-paid people out of income tax, increase state pensions, double renewables or see same sex marriage". Without the Lib Dems, Cambridge and the country would have had to endure "untrammelled Tories".
And from Anoosh, on the Danny Alexander incident:
The Chief Secretary to the Treasury, Danny Alexander, has lost his seat to the SNP. The Lib Dem MP for Inverness, Nairn, Badenoch & Strathspey won 18,029 votes, to the SNP candidate Drew Hendry's 18,029. He is just one of many senior Lib Dem politicians and ministers to lose their seats.
05:59 As we pass the 6am mark, claims we're the in house magazine of the Labour Party collapse…
We are nothing if not ecumenical with our mugs pic.twitter.com/Tqr6F3viey

— Caroline Crampton (@c_crampton) May 8, 2015
05:58 BBC update: Jeremy Vine is in a fake house of commons with CGI MPs. It is proper uncanny valley.
05:56 Balls update from George:
An update on Ed Balls, who is in danger of losing Morley and Outwood to the Conservatives (his majority is 1,101). A Labour source told me: "Will be close but don't know yet – they haven't started properly counting". 
05:55 This from Barbara:
Turnout about the same as last time so far – you'd have thought SNP/Ukip, even greens might have pushed it up

— Barbara Speed (@bspeed8) May 8, 2015
05:54 Anoosh just in from watching probably the happiest man in the country:
David Cameron has won in Witney, with a stonking 35,201 votes. He gave a long, political speech, championing his government's economic record and citing two main aims for what will most likely be his second term: "I want to make sure our economic recovery reaches every part of our country", and to "bring our country together… Reclaim the mantle of One Nation, one United Kingdom". Stealing "One Nation" back from Ed will add insult to injury for Labour.
05:52 Danny Alexander crumbles; HUGE gain by Drew Hendry (SNP) in Inverness.
Dimbleby: "that's the price you pay for being in the quartet at the very heart of the coalition government". He is ruthless.
05:50 Someone has come to the liveblog by googling "have the Tories got back in".
This is for you.
Tory crossover is about to happen… http://t.co/MukorZKzah pic.twitter.com/xGlXFNVpv6

— May2015 Election (@May2015NS) May 8, 2015
05:48 Cameron has just STOLEN the phrase "one nation". Mass outrage in NS towers.
More importantly, here's George:
The BBC have updated their election forecast and it shows the Tories just one seat short of a majority on 325. Labour are on 232, the SNP are on 56 and the Lib Dems are on 12.

Should the Conservatives win a majority, they would be the first party to do so after a full term in government since 1955. 
05:47 Hahaha:
David Cameron: "Those who can, should. Those who can't, we always help." Teachers furious. #GE2015

— Anoosh Chakelian (@AnooshChakelian) May 8, 2015
05:46 "If you want a job, if you want that appreneticeship, if you want a home that you can own of your own . . . we are on your side."
Cameron says we "must hold" a referendum on Britain's future in Europe. 
05:45 Good spot, Anoosh.
David William Donald Cameron wins in Witney with 35,201 votes. He looks so happy. Donald. Yet another Scot. #GE2015

— Anoosh Chakelian (@AnooshChakelian) May 8, 2015
05:44 "Some people say … there's only one opinion poll that counts, and that's the one on election day." 
"I'm not sure that's ever been truer."
Alright, rub it in.
05:43 "I now declare that David William Donald Cameron…" 
Here we go with the speech.
05:42 Back to results: Cameron's constituency is declaring.
"Who's is this?"
"Cameron's"
"Ugh. Hamface."
05:41 Oh my god. Our amazing Anna, NS staff member and photoshop wizard, has created this magnificent thing:
The file name is "bye bye.jpg"
05:40 Stephen's still up.
But don't worry guys, Lucy Powell got to enjoy John Leech losing in Manchester Withington. https://t.co/4PJxqNSTtR

— Stephen Bush (@stephenkb) May 8, 2015
05:38 This is lovely, via @c_crampton
The North #UK2015GeneralElectionResultsLiveStitch pic.twitter.com/vEwlwjHU2C

— Tom Katsumi (@tomkatsumi) May 8, 2015
05:37 Dimbleby has gone existential. "When is dawn nowadays?"
05:32 On a more serious note, George on Miliband's all-but-concession speech:
Speaking after he was re-elected in his Doncaster North constituency, Ed Miliband has all but conceded defeat. He referred to the "huge responsibility" that "the next government" would have "in keeping our country together", an admission that he will not lead it. He added that he would "go to London to await the full results". Once those are in, he will resign and another Labour leadership contest will begin. 
Here's what Ed said:
"Now, the results are still coming in, but this has clearly been a very disappointing and difficult night for the Labour party. We haven't made the gains we wanted in England and Wales and in Scotland we've seen a surge of nationalism overwhelm our party. Now, I want to say to all the dedicated and decent colleagues in Scotland who have lost their seats that I am deeply sorry for what has happened.

"And I also want to say that the next government has a huge responsibility. It has a huge responsibility in facing the very difficult task of keeping our country together. Whatever party we come from, if we believe in the United Kingdom, we should stand up for people in every part of our United Kingdom because I believe that what unites us is much, much more than what divides us.

"Friends, I'm now going to go to London to await the full results to come through, but I just want to reiterate my thanks to the people of Doncaster North: it is a huge privilege to be your Member of Parliament; it is a huge privilege for you to have placed your trust in me."
05:29 We are wringing pleasure where we can from the tatters of this night. . .
British democracy, right there, in one image. https://t.co/Inc3DRmkQB

— Caroline Crampton (@c_crampton) May 8, 2015
05:27 Um.
Manchester Withington about to declare. I'm going to enjoy this!

— Lucy Powell (@LucyMPowell) May 8, 2015
05:26 Anoosh again (she's a machine):
Further Lib Dem figures fall, as David Laws loses in Yeovil, and Charles Kennedy – former Lib Dem leader – loses as expected in Ross, Skye and Lochaber to the SNP.
05:25 Says"whatever party we come from" we should stand up for a United Kingdom. 
He's off to London to await the full results. Miliband looks exhausted.
05:23 Miliband thanks the people of Doncaster and the Labour party members "who have done such an extroadinary job" during the campaign.
It has been a difficult night. "In Scotland, we have seen a surge of nationalism overwhelm our party."
05:22 The count is on for Ed Miliband's Doncaster North. He's kept his seat. Caroline "can't look at his face without feeling sad". 
Dimbleby: "well, it's a cruel world."
05:21 From George:
Yet another Lib Dem big beast has tumbled: David Laws has lost to the Tories in Yeovil, with his coalition partners overturning his huge majority of 13,036. Labour will doubtless regard his defeat as poetic justice after he leaked the "There's no money left" note which the Conservatives so ruthlessly deployed during the campaign. 
05:18 As dawn rises over Farringdon, May2015 has an update from the other channel (our TV is fixed on Dimbleby):
"Oh come on, how long are you going to give him before you go for his job Boris!" Watch Pax-Boris on c4 now…

— May2015 Election (@May2015NS) May 8, 2015
05:16 If Nick Clegg does resign as Lib Dem leader, he will almost certainly be replaced by Tim Farron. Here's George's interview-profile of him from February: "The Lib Dems' leader-in-waiting".
05:15 They're coming thick and fast now. Here's Anoosh on Natalie Bennett, who failed to win in Holborn & St Pancras:
The Green party leader, Natalie Bennett, has unsurprisingly missed out on winning safe Labour seat, Holborn & St Pancras. Labour's candidate, Keir Starmer, romped home with a 17,000 majority. But Bennett massively increased her vote share – last time she ran in this seat, she came 4th with 1,480 votes, and this time she came third with 7,000 votes (nearly twice as many as the Lib Dems.

It is an interesting seat, featuring some of Central London's most deprived, and smartest areas. Lots of students in the area gave the Greens an ounce of hope. Here's an extract from my report of the seat:

"This central London seat is so varied you need only walk a few streets down from the ruddy red brick and green expanses of Highgate at its northernmost point to the crumbling housing estates of Somers Town, which perch in the glossy glow of King's Cross station's newly restored facade. Or you could stroll northwest from the buzzing Seven Dials junction of bars, bistros and theatres in Covent Garden up to the orderly patchwork of Regent's Park's rose garden.

"The grandfatherly Labour MP, Frank Dobson, has presided over this concentrated tangle of cultures for 34 years. Next year will be his last. A respected figure among constituents – Labour or otherwise – it is this former health secretary who has kept Holborn and St Pancras a cosily safe Labour seat for over three decades."
05:13 A double whammy for you here!
Barbara on Wirral West:
Esther McVey, Conservative Minister of State for Employment, has lost her Wirral West seat to Labour's Margaret Greenwood by a small majority of only 417 after. This will come as a relief to many whose benefits have been affected under this government – including the family of a diabetic who died after having his benefits cut, who confronted McVey at a sanctions inquiry. The seat itself was split between wealthier residents and those affected by welfare cuts. Others may have been put off by an ill-timed tweet from her twitter account on during a Hillsborough memorial service, for which McVey later apologised. 
And froom Anna, who is mourning her home constituency and has some insider info:
The Liberal Democrat's Martin Horwood has lost his seat in Cheltenham to the Conservative's Alex Chalk by more than 6,000 votes. After 10 years in office, Horwood was immensely respected and well-liked locally, and his loss demonstrates the extent to which voters nationwide has lost faith in the Liberal Democrats as a party. Horwood has reportedly said that his campaign faced a "political tsunami", and blamed his party's broken promise on tuition fees. 
05:11 Luckily, not everyone's so pessimistic. This just in from Abby, leader of the #milifandom:
— abby (@twcuddleston) May 8, 2015
Abby's already taken on Rupert Murdoch after she was doorstepped by The Sun – we're going to trust her on this one.
05:09 Is Nick Clegg planning to resign? Here's Anoosh:
Nick Clegg has held his constituency, Sheffield Hallam.

. . .

However, he gave less of a victory speech and more of a hint at his future resignation, calling tonight a "cruel and punishing night" for the Liberal Democrats, saying he will be "seeking to make further remarks" about the implications of this election for his party, "and my position in the Liberal Democrats".
Read her full post here.
05:07 Biggest sign of the times yet! May2015 swaps its front page.
All these seats… we've simplified things. We'll keep a running tally of the Tory march to a majority. pic.twitter.com/RODG9j0LXX

— May2015 Election (@May2015NS) May 8, 2015
05:05 Dimbleby keeping it real. "We're going past the piazza – or the 'square' – outside Broadcasting House."
05:03 George "How Is He Still Up" Eaton has written a longer post on Vince Cable losing his seat here:
The Business Secretary was expected to survive on the basis of his personal popularity. But such is the scale of the swing against his party that the much-touted "incumbency advantage" counted for little. The Tories, for whom Cable became a hate figure in recent years, will relish this victory.
05:03 Caroline here!
Labour have held on to Hampstead and Kilburn, where they had a majority of just 42. Tulip Siddiq increased that to 1,138. Further evidence that London is bucking the national trend.
05:01 Esther McVey loses her seat in Wirral West.
04:48 More from twitter: Caroline letting slip where the NS priorities lie…
Weak cheer in the NS office as Nick Clegg thanks Miriam. We like her food blog http://t.co/5TXTLAEDBz

— Caroline Crampton (@c_crampton) May 8, 2015
04:56 Huge if true:
Ed Balls has lost according to the party.

— Patrick Wintour (@patrickwintour) May 8, 2015
04:52 Nick Clegg has kept his seat!
Full report to come. In the meantime, I'm more interested in the fact a man called "Jim Stop the Fiasco Wild" ran against him. Did he change his name as a comment on the Lib Dems? That's dedication.
04:50 Another report from top colleague Anoosh:
Hello, it's Anoosh reporting on the Spa Wars (sorry) here – the wheels have come off the Lib Dems' Roman chariot race in Bath, as Ben Howlett (former head of the youth wing, Conservative Future), wins it for the Tories by 3,833. The incumbent, Lib Dem chief whip Don Foster, is standing down, so it's unsurprising it's slipped into Tory hands. In fact, Howlett admitted to me when I interviewed him that he wouldn't have a "hope in hell" if Foster weren't standing down.

Here's an extract from my feature on the seat, which could also have been won by the youngest candidate – a 19-year-old student running for Labour:

In spite of rising inequality, Bath is a relatively well-off constituency. Unemployment is only at 3 per cent, and tourism makes a huge contribution to the local economy, which is also boosted by the two universities – the University of Bath and Bath Spa. There is increasing potential from a big talent pool and high amount of capital in the high-tech and engineering sectors.

Although many here work in low-paid retail and service jobs, the town has generally been in a comfortable position, which may explain its status as a steadfastly safe Lib Dem seat. Foster's majority in 2010 was 11,883 and even the Tory candidate admits his party, "wouldn't have a hope in hell here if it weren't for Don Foster standing down".
04:44 Boris is speaking live on the BBC. On leadership bid: he'll be "helping his friends" in the party as much as he can. He still has a year as mayor, and "whatever happens after that year will be a bonus."
If anyone still has "long term economic plan" on their bingo card (unlikely) stamp it now. Boris slipped it in while accounting for tonight's Tory gains.
04:42 Someone needs to give poor Dimbleby a coffee. He just said "Boris Johnson is joining us" with the dead-eyed stare of a man who really wishes he was in bed.
Or at least, it's probably that.
04:40 Here's George on Vince Cable:
In the biggest shock result of the night, Vince Cable has just lost his Twickenham seat to the Tories. The Business Secretary's personal popularity was expected to ensure his survival. But such is the scale of the swing against the Lib Dems that the much-touted "incumbency advantage" wasn't enough. The Tories, for whom Cable became a hate figure during the coalition, will relish this victory. 
Cable says he's "absolutely sure" the Lib Dems will "bounce back" – locally and nationally. What say you, readers?
04:38 Ming Campbell is on the BBC: "It's not a great night." Brief pity-chuckle from around the NS office.
"It's not a great night" says Ming Campbell. I feel ya, Ming #GE2015

— Anoosh Chakelian (@AnooshChakelian) May 8, 2015
04:35 CABLE'S OUT
04:35 A Labour hold for Ian Murray in Edinburgh South, currently Labour's only MP in Scotland.
04:34 From May 2015, a rare photo of Boris looking like the most sensible person in the room.
It's Boris and the hat brigade. pic.twitter.com/nDstol7UZi

— May2015 Election (@May2015NS) May 8, 2015 
He's next to two members of the Official Monster Raving Looney Party. Here's some intel:
Anoosh here, your Loony correspondent! Howling Laud Hope, the leader of the Monster Raving Loony Party won 72 votes in the seat Boris Johnson has just won, Uxbridge. I wondered if the party is still an eccentric quirk of British politics, or a tired joke. Here's an extract from my feature:

"We used to be the party of protest, against what's going on in government," he smiles. "And now he [Nigel Farage] seems to have taken that role. We don't mind, we'll win them back again one day."

Hope has nicknamed Farage the "Political Cuckoo", because he's "hatched a Conservative egg" in Clacton and Rochester, but has never hatched one of his own. This joshing is part of Hope and Farage's pint-toting friendship; they've known each other for years.

Hope even reveals that Arron Banks, the former Tory donor who caused a stir by pledging £1m to Ukip in October, is sponsoring him the £500 necessary to run in Uxbridge against Boris Johnson in the general election. I've contacted Banks' office about this, and they have confirmed it.

"Ukip are the unofficial Monster Raving Loony Party – although you could argue that about all of them," the merchandising secretary known as Chinners tells me. It's an echo of David Cameron's ill-advised dismissal of Ukip as "loonies" (as well as "fruitcakes" and "closet racists").
04:31 George on Southampton Itchen:
Another grim result for Labour: the Tories have gained Southampton Itchen, John Denham's former seat, which the party had held since 1992. The excellent grassroots campaign run by Rowenna Davis wasn't enough to defy the national trend. That the Tories are gaining seats they failed to win in 2010 shows the extent of Labour's woes. By the end of the night, Labour could hold even fewer seats in the south outside of London than before (it won just 10 out of 197 at the last election). 
04:30 Boris holds his seat with a healthy majority. More surprising: quite a pared down victory speech?
Oh no, spoke too soon. "Today, as I have just remembered, is [my] wedding anniversary."
Okay, definitely spoke too soon. He bought some shoes from the previous MP once. Is this a shoe in? (Sorry.)
04:29 The 50th woman has just been elected into the new house, according to the Fawcett Society:
The 50th woman in the new House of Commons has now been elected 50 is 8% of the 650 members there will be. #GE2015

— Fawcett Society (@fawcettsociety) May 8, 2015
04:25 An extraordinary victory speech from Alex Salmond in Gordon – "The Scottish lion has roared tonight," he declares.
One for the Photoshop fans?
04:22 (While we're posting seat reports, allow me to toot my own Heywood and Middleton-horn. Residents there told me people protest voted Ukip in the by election but might not risk it in the general. Thanks, Lynn of Middleton – you were spot on.)
04:21 From Barbara, who was on the road in Bermondsey and Old Southwark two weeks ago: 
Labour have outperformed even their own wildest hopes in Bermondsey and Old Southwark. Liberal Democrat incumbent Simon Hughes' 8,500 majority last time has reversed into a 5,000 majority for Labour, in a seat where Ashcroft pegged the two roughly neck-and-neck at the end of last year. Credit goes to Labour candidate Neil Coyle's ground campaign, which at one point had the highest contact rate in London and managed to overcome Hughes' substantial recognition factor (not to mention his yellow campaign taxi). But in a seat stuffed with students and ethnic minorities, the Liberal Democrats' time in government with the Conservatives must have had some effect too.
04:20 Anoosh here:
The Tories have held Thurrock – an indication of just how spectacular a night the Tories are having. This was a  three-way marginal under forensic watch by the nation's media, with Ashcroft polling repeatedly showing Ukip out front and Polly Billington (a former Ed Miliband aide) trying to win the seat for Labour – which should have been an easy steal for the party. My most recent report from the seat can be read here: "the frontline of hope for working-class communities", according to Billington, who just lost the seat.
04:19 First Ukip declaration of the night in Clacton. Here's George:
Ukip's first elected MP, Tory defector Douglas Carswell, has held on in Clacton with a significantly reduced majority of 3,437 (down from 12,404).

With the Tories retaining Thurrock and Nigel Farage set for defeat in South Thanet, he is likely to be his party's only member in the new parliament. If Farage keeps his pledge to resign having failed to win, he may well also be Ukip's next leader.  
04:15 George here on the Lib Dems – who, as you know, are not doing so well:
The Lib Dems' big beasts are tumbling like toy soldiers: Simon Hughes has just lost Bermondsey to Labour, which he had represented for 22 years, Lynne Featherstone lost Hornsey and Wood Green (also to Labour) and Energy Secretary Ed Davey lost Kingston to the Tories. Will David Laws and Vince Cable hold out? The Tories are hopeful of decapitating both. 
04:13 Stephen Bush has left the building. You can tweet him a round of applause for that excellent blogging performance at @stephenkb
04:11 Anoosh here with a slither of silver lining:
Labour takes Hornsey and Wood Green, where the Lib Dem ministerial headcount is further reduced as Home Office minister Lynne Featherstone loses her seat. Another blow for the Lib Dems, and another crumb of cold comfort for Labour as it continues to perform well in London.
04:09 The front pages are here!
The exit polls were surprising and the Tories are doing well. YOU HEARD IT HERE FIRST.
04:07 Huge cheers from Stephen as Wirral South holds for Labour; sigh of relief as Heywood and Middleton doesn't go Ukip.
04:04 Morning all! We're changing over to the second shift. Look at all these happy faces:
I'm Stephanie Boland, taking over from Stephen Bush, and with me here are Caroline Crampton, Anoosh Chakelian, Anna Leszkiewicz and Barbara Speed. Stephen Bush remains, forlorn.
04:01: The Liberal Democrats have held Orkney & Shetland. 
03:54: Labour have won in Ilford North and Bermondsey and Old Southwark. London, at least, has provided a very small crumb of comfort to Labour.
03:50 It just gets worse for Labour in Scotland – they've lost their safest seat, Glasgow North East, to the SNP. Willie Bain, who won the constituency in a 2009 by-election, is gone. As things stand, none of the party's 40 Scottish MPs will be left by the end.
03:44 Energy Secretary Ed Davey has lost his Kingston seat to the Tories – the first secretary of state to be defeated tonight. He may not be the last: the Conservatives are hopeful of also decapitating David Laws in Yeovil and Vince Cable in Twickenham.
03:33: George notes Chuka Umunna's dramatically increased majority in Streatham.
Labour has hugely undershot expectations in London, where the Tories have even advanced in some seats. But one candidate who has excelled is Chuka Umunna, who increased his majority from 3,259 to 13,934 in Streatham – a big endorsement of a strong constituency MP. With Ed Miliband expected to resign as leader later today, he's soon likely to be fighting another election.  
03:30: Here's Worcester's finest export – after Elgar – Helen Lewis on Labour's defeat in the town there. 
As the scale of the Labour rout becomes clear, news from my hometown of Worcester. This was nominally a possible Labour gain – the Tories had a majority of 2,982 – but few expected them to win unless it was a VERY good night. It is not, it's fair to say, a very good night for Labour. 

Robin Walker, the previous MP, has been re-elected with a doubled majority – 5,646. As I wrote on 30 April, the problem here was that Middle England voters weren't angry enough to want to kick out the Tories. There were worries about the NHS, sure, but also a general feeling that the economy was on the mend. 

"This is the heart of Labour's dilemma in English marginals such as Worcester: its core vote is fragmenting and it is hard to appeal to any one section of it without alienating another. Unlike the Tories, it is unwilling to indulge in "Nicola Sturgeon will eat your babies" rhetoric to get out the English patriot vote; unlike the Lib Dems, it cannot settle for clinging on in a few strongholds. If Labour inches closer to blaming Britain's economic woes on immigration, in order to pick up working-class supporters drifting over to Ukip, it drives away middle-class recyclers flirting with the Greens.

The spiritual home of "Worcester Woman", that beloved 1990s political metaphor – a working-class mother in her thirties who worries about the cost of living – is in the city's council estates. But it is exactly these places that Walker thinks delivered his majority in 2010 thanks to a widespread disillusionment with Labour. "Some of the council estates in Worcester split a third, a third, a third: Conservative, Liberal, Labour," he says. "No one's going to vote Liberal on the council estates this time round. But I think that chunk will go to Ukip."

In other words, not back to Labour."
03:25: Here's George: 
Just to confirm how badly tonight has gone for Labour, the party failed to win its number one target seat – Warwickshire North. Despite the Conservative incumbent standing down shortly before the election, the Tories achieved a swing of 3.1 per cent – a remarkable result. 
03:14: Labour have lost Jim Murphy's seat. There are no words for the scale of Labour's defeat in all three kingdoms. 
03:08: Tories have gained Vale of Clwyd from Labour. 
03:05: Labour have lost Gordon Brown's old seat of Kirkcaldy. 
02:53: Labour have lost South Swindon by more than 5,000 votes, Labour sources tell me. 
02:46: Labour have lost Motherwell to the SNP. And it looks very bad in Wales, where Alyn & Deeside, Delyn and Gower are all in play. 
02:37: Knives out for Ed from every part of the party. 
02:34: The SNP are winning everything in Scotland. Our editor, Jason Cowley, tweets:
Douglas Alexander gone. Terrible, terrible night for Labour. Three leadership races will soon be upon us: Lab, Lib Dems, Ukip 
02:26: Helen here: Incredible swing to the SNP from Labour in Paisley and Renfrewshire South, leaving the SNP 5,500 ahead in what was once a rock-solid Labour seat. Here's my profile of the new SNP MP, Mhairi Black, who is 20 years old and still hasn't taken her final exam for her degree. 
02:22: Douglas Alexander has lost his seat. Stick a fork in Labour, they're done. 
02:18: "Ed has to resign tomorrow, everyone here accepts that" – sources from Labour tell George Eaton. 
02:15: An unexpected result in Northern Ireland, with the DUP losing to the UUP. But that doesn't much change the maths as they are if anything more sympathetic to the Tories. 
02:12: The Scotpocalpse begins! The SNP take Kilmarnock and Loudoun with a 26% swing. 
02:08: Every light on the board is flashing red for Labour, and not in a good way. They are in trouble in the Vale of Clywd and Gower, seats they held in Wales in 2010. They are quietly despairing of Vale of Glamorgan and Cardiff Central. 
02:00 It now looks like Douglas Alexander and Jim Murphy are both gone. More bad news for Labour in the marginals. And the party now expects to be wiped out in the NorthWest marginals – not just City of Chester and Wirral West, both currently Tory held, but also Wirral South, which it held in 2010.
01:51: More bad news. Labour badly beaten in Nuneaton, a seat on the foothills of their target seat that they thought they'd win. It shows among other things the limits of ground game. As one marginal Labour MP told me recently "I had a good ground game last time. It didn't get me much. It won't get much this time, either." It now looks certain that if the exit poll is wrong, it is underestimating the size of the Tory victory. 
01:46: Stephen here. Sorry about the radio silence. I periodically have to go outside and scream at the sky. There is a recount between Ukip and Hartlepool. Source in Labour HQ tells George it is "currently slit your wrist time". 
01:37: This from Helen. Tristram Hunt on the BBC, and Andrew Neil asks him whether the exit polls are increasingly looking right. "I think it's been a great election campaign for the Labour party—" he begins. Andrew Neil interrupts him, pointing out that they've just lost Battersea, which they had hoped to gain. He's talking about the rise of nationalism, and SNP activists "hounding" Jim Murphy – and saying the Tories played on this, mentioning Boris Johnson's coinage of "Ajockapalypse now".
Is Ed Miliband's job on the line, asks Andrew Neil. Hunt says Miliband has "exceeded expectations". Andrew Neil finds this literally unbelievable. I suppose it depends how low Tristram Hunt's expectations were. In other news, Tristram Hunt's microphone makes it looks like his ear needs a catheter.
01:32: It now looks more than possible that Labour will lose Hampstead & Kilburn if this swing is repeated across London.  
01:25: A swing to the Tories in Battersea, where Labour threw the kitchen sink at it and had a fantastic candidate in the shape of Will Martindale. Labour hoped London would be better than the country at large. But I'm hearing bad things about Enfield North and Ilford North – as well as their targets in north London, Hendon and Finchley & Golders Green. 
01:23: Here's George's take on Tooting:
Tooting is another bad result on what looks like a very bad night for Labour. Sadiq Khan held the seat with a swing of just 0.2 per cent. Given the collapse of the Lib Dems, that's a terrible performance – the party has made almost no progress since 2010. For Khan, who aspires to become Labour's London mayoral candidate, it's a particularly disappointing result. 
01:17: The one person having a worse night than me is Jonn Elledge:
Those who aren't watching Channel  4 just missed a debate about whether the problem with Green leader Natalie Bennett had been that she was a woman, or that she was Natalie Bennett.

This was followed by a brief and jokey segment about which of the main party leaders had the hottest wife.

There is no joy left in the universe.
01:13: The real shock of the night isn't the Liberals but Labour, of course. Here's another bad sign, via Helen:
Here is the result from Newcastle South – two very obvious trends here. Lib Dems have been absolutely disembowelled, and Labour have made only a very, very small gain. At the start of the parliament, Labour thought they would really benefit from the Lib Dem collapse, but that doesn't seem to have been quite how it has panned out in some seats.
01:12: Labour think they're going to lose Battersea (CON) and badly. 
01:09:  Here are George Eaton's thoughts on the Liberal Democrats:
It seems clear that the Lib Dems are going to underperform already low expectations. Most expected the party to hold 25-30 of its seats but party sources are now expecting just 20 (the exit poll suggests 10). Here's what Nick Clegg predicted just yesterday:  "We will be the surprise story … We are going to do so much better than anybody thinks."
01:07: Harry Lambert has the latest on what's happening at the moment:
We know very little yet, but the exit poll is believable.

For it to be right, two key and unexpected things seem to have happened.

First, the Tories have held onto far more seats in England than we thought they would. Rather than losing more than thirty to Labour, they could have lost as few as a dozen. They may have even won a few seats from Labour, but we are guessing that there has been a net loss to Labour of around ten. That would mean the Tory seat total rises from the low 270s, as we had expected, into the high 290s.

But the exit poll says the Tories have won 316 seats. Who are the other 15-20 unexpected wins coming from? The Lib Dems. That is the second shock. They seem to have lost many more seats to the Tories than we expected. The party's supposed 'incumbency effect', with popular local MPs overcoming the Lib Dems' national collapse, doesn't seem to have materialised.

As for Labour, by adding ten or so seats from the Tories they approach 270, and then they are likely to have won nearly a dozen from the Lib Dems. But they appear to have lost all, or nearly all, of their Scottish seats, which takes them down to the 239 the exit poll predicts.
01:04: Miliband wanted to bury New Labour. And he may have succeeded. As Kate Green blogged for us recently, if, as looks likely, the Tories are re-elected, Britain's child poverty rates will have soared – to the level they were at in 1997, when Tony Blair took office. 
01:00: More marginals soon. 
00:57: Justine Greening has won in Putney. A mere 0.4% swing to Labour. The party had expected to do better in London. Helen Lewis has the figures:
Putney (CON) has declared, and Justine Greening has held her seat with a 10,180 majority. No surprises here in the first London seat we've had – other than Ukip doing very badly, which is what we expect in London. 

Lab – 12,838

Animal Welfare – 184

Conservative – 23,819

Lib Dem – 2,717

Green – 2,067

Ukip – 1,989
Justine Greening giving a very good speech. Cameron's victory means that Boris and Theresa May will probably be passed over in favour of a younger geenration when he stands down. She could be a contender. 
00:55: Update. Liberal sources tell me that while they may not hold on, they are doing better at resisting the SNP in Argyll & Bute than they had expected. 
00:50: If anything the exit poll may be underestimating the Tory position. They have done better than the exit poll suggests in every result so far. 
00:49: Helen Lewis has been watching Theresa May on the Beeb:
Theresa May is on the BBC, saying that the Tories fought "a positive campaign" and somehow not laughing. David Dimbleby is quizzing her about her leadership ambitions, and she says that she has only got "one eye" on politics. I think the eye is on the result. Not sure what her other eye is doing. 

Laura Kuenssberg is pressing her hard over whether the Tories will try to rule as a minority if they hit 285 or 290 seats. May says she's not there to speculate, which is exactly what she's there for when so few results have been declared. But hey ho. 

Meanwhile, interesting news from Scotland – turnout is very high in some key seats, including more than 75 per cent in Douglas Alexander's seat of Paisley and Renfrewshire South."
00:47: Liberal Democrats in despair. They have given up any hope of holding off the SNP in Gordon, where Alex Salmond will doubtless be returned to the House of Commons. 
00:39: The first marginal to declare is Swindon North, and Labour have been crushed. The exit poll is right. 
00:36: But sources close to the Labour leadership are still bullish: "BBC forecasting Greens to gain Norwich South – looks well wide of the mark."
00:33: Liberal source fears that the numbers are right: "Last week's anti-SNP, anti-Labour squeeze has fucked us."
00:30: Here's more from Tim Wigmore:
Ukip source predicts Conservatives will win Thanet South. Adds that "still probably too early to tell" but seems certain that Farage will find it much harder here than many expected. Did he leave campaigning full-time here too late?"
00:23: Here's the Telegraph's frontpage.  Meanwhile, Tim Wigmore hears that the Conservatives believe they will hold Thanet South. Ta ta, Farage…
00:18: Here's the Metro's frontpage.
00:17: On the alleged threat to Ed Balls in Morley, a Labour source tells George: "Ballot boxes not long arrived at Morley – just a Twitter rumour at this stage". 
00:14: Latest from H-Dawg. Or Helen Lewis, as I believe she is generally known:
Jeremy Vine, who appears to be wearing those goggles they made you put on for GCSE science experiments, is suffering because his set isn't big enough to fit all the projected Tory seats. At one point I thought he referred to "the Lib Dem" instead of "the Lib Dems". 

Also, looking at our traffic statistics, I can see that a lot of people are wondering who the DUP are, and wondering what they might want in return for their support. Their first demand is a commission on the union, and you can read more about it here. They would also want a commitment on 2% defence spending commitment, and they want to repeal the bedroom tax. 
00:08: Here's the FT's frontpage. I love the comma. It's a very FT comma.
00:07: All the indications so far are that the exit poll is correct. It's not dark yet, but it's getting there.
00:00: George points out that the Tories may have cost themselves a majority:
The Tories might be jubilant at the exit poll's forecast of 316 seats but it's worth noting that had they passed the boundary changes (which the Lib Dems vetoed in retaliation for the abandonment of House of Lords reform) they'd now be on course for a majority of 10-15 seats. 
Another way to see it is that Labour have done such a feeble job of opposing the Tories that the Conservatives have had to pitch in. 
23:59: The Mirror is my spirit animal.
23:57: Our man in Thanet, Tim Wigmore, has news:
There are two reasons people move from London – immigration and house prices. It was the same when I moved in 1977 – you could already play spot the white man in Southgate." The words from my taxi driver in Ramsgate, in the heart of South Thanet, suggest a seat that could fall to Nigel Farage. And nothing I saw in the streets of Ramsgate undermined the notion: a number of shops were boarded up, and while I encountered some Ukip canvassers on the streets – including a young couple who had come down from Bedfordshire "because Nigel needed us" – I did not see any representatives from the other parties. All the locals I talked to expected Farage to win, albeit narrowly.

But while Ramsgate is the biggest town in South Thanet, the others – Broadstairs and Sandwich – have a very different feel, and the 'left behind' voters that often plump for Ukip are harder to find. The upshot is that Farage's victory here is far from inevitable – there is even talk that he could come third, because Labour candidate Will Scorbie has run a notably energetic campaign. Results are not due till 6am, so we have a long night ahead."
23:56: Sorry, I was too depressed to hit the "save" button, hence the radio silence. Here's George on the downside to Labour's "the coalition has lost its majority" line:
It is notable how senior Labour figures, such as Ed Balls and Harriet Harman, are framing the Tories and the Lib Dems as one entity – "the coalition".

This allows them to claim that the two parties' combined majority, which stood at 78 in 2010, has been all but wiped out (to just one if the exit poll is right). But it does amount to presenting the Lib Dems as a mere appendage to the Tories, which won't endear Labour to them. "
23:51: Here's the Indy:
23:44: Brace yourself, here's the Sun's frontpage tomorrow:
23:40: Senior Labour source says the numbers from Scotland are "definitely wrong". 
23:38: Remember that hat that Paddy Ashdown said he'd eat if the exit poll was right? With the inevitability of an unloved season, it has a Twitter account:
23:34: Latest from Helen, who is on Ballswatch this evening:
The exit poll is a very big surprise to all us," says Ed Balls, with uncharacteristic understatement on the BBC. "If the exit polls is wrong by just 10 seats . . . then suddenly David Cameron wouldn't be able to get a majority in the House of Commons."
23:33: The results so far support the exit poll. Let's make Scotland go independent so I have somewhere to migrate to without learning a new language.
23:31: News from Helen:
Washington and Sunderland West has declared – another Labour hold, and ANOTHER LADY!

Ukip – 7,321

Conservative – 7,033

Trade Union & Socialist Coalition – 341

Liberal Democrat – 993

Labour – 20,478

Green – 1,091
Sharon Hodgson is the MP. Another second place for Ukip, and another seat where Lib Dems are behind the Greens – and lose their deposit.
23:30: More cheer from George:
The last time that the Tories lost votes but won seats was in 1983 – when they gained 58 constituencies, as the SDP split the left, but saw their vote share fall by 1.5%. Tonight, thanks to the Lib Dem collapse (who are forecast by the exit poll to have just 10 seats), they could pull off the same feat." 
23:26: George Eaton tweets:
If Labour have lost as badly as the exit polls suggest, the battle will begin to define the defeat. So was Labour too left-wing, or not left-wing enough?"
23:23: Laughing at the Liberal Democrats doesn't make things better. But let's do it anyway. 
23.22: John Rentoul tweets a suggestion that Harriet Harman will be acting Labour leader by noon tomorrow. Mandatory pink buses for all!
23:19: Sunderland Central has just declared – a safe Labour hold. 
Full results are what you'd expect, although Ukip are third here. Liberal Democrats are behind the Greens again.
Green – 1,706
Ukip – 7,997
Lib 1,105
Conservative – 9,780
Independent – 215
Labour 20,959
23:16: 100% of all MPs are female – and Labour. Let's just stop the election now, eh?
23:15: Helen Lewis, our deputy editor, has news of Ed Balls:
Ed Balls was just on ITV, talking about the exit poll. He looked sombre (as you might imagine, given the exit poll) and said: "We've fought a very good campaign . . . let's wait and see."

There have been rumours that Balls might even be in trouble in his constituency – although Nick Robinson of the BBC tweets: "Hear that ballot boxes only recently arrived at @edballsmp count so rumour re: losing his seat seems to be just that – a rumour".
23:14: Stephen Tall, Liberal Democrat blogger and activist, engages in gallows humour on Twitter:
23:09: Harry Lambert, our election whizz, says that the numbers in the exit poll are perfectly plausible:

Labour still win a dozen Tory seats. Tories hold the rest v. Lab. Lib Dems collapse to Tories."
23:06: It's not just Labour who have problems. George Eaton points out trouble ahead for the Liberal Democrats:
The Lib Dems have lost their first deposit of the night  – with several hundred more likely to follow. At £500 a go, it will prove a costly night for them in a most literal sense. "
23:03: Labour sources report that Ed Balls is in trouble. Tories been saying the same for some time.
23:02: "It's certainly not what we were aiming for," says Alistair Campbell of the exit poll. Indeed.  
23:01: I want to go home. 
22:58: It gets worse. 
Philip Cowley, the respected elections expert, reports that if the exit poll was right, Sunderland South would be:
Conservative 20%
Labour 59%
Lib Dems 2%
Ukip 16%
And as Bloomberg's Rob Hutton points out, the actual percentages were:
Conservative: 18%
Labour: 55%
Liberal Democrats: 2%
Ukip: 22%.
So Labour are actually doing worse than expected so far. 
22:55: Sorry, I was wrong. John Curtice says this result is exactly what we'd expect from the exit poll. But "one swallow doesn't make a summer," as Curtice himself has said.
22:50: Sunderland South (LAB) has declared. Bridget Philipson's majority is up, the Liberal Democrats are way down in fifth place, Ukip are second, the Tories are third and the Greens are fourth. There's no sign of a swing to the Tories there.
22:47: It's worth pointing out that this could yet be Labour's 1992 – in reverse. They were ahead in that exit poll and went on to lose. We really won't know until we start getting results through.
22:42: I don't need to tell you how much of a disaster it would be for Labour if these numbers are correct. The Tories would have enacted deep cuts, handed a tax cut to their rich buddies, paid for it by taxing Greggs, and gained seats from their 2010 showing.
22:35: Neil Kinnock warned our political editor George Eaton that so-called "shy Tories" could still be a risk to Labour in an interview recently:
There's a superstition that somehow a Tory government will look after your pocket; it's a triumph of propaganda over reality. And people who tell pollsters that they're not sure, or they're not going to vote Conservative, will, in the privacy of the ballot booth, say: 'To hell with it, I'll stick with what I know because they say they're going to cut my taxes' – even when their record is, of course, to have put taxes up."
22:31: Labour's reaction:
It's been close all the way through – and exit polls have been wrong in the past. YouGov is very different from the BBC's. The Coalition came into the election with a majority of 73 and even if the BBC exit poll is right, that has been all-but wiped out. Who forms the next government is who can carry the confidence of the House of Commons."
YouGov's numbers: Conservatives 284 MPs, Labour 263, Liberal Democrats 31, SNP 48, Ukip 2, Plaid Cymru 3, Green 1
22:25: I'm getting the same text back from Labour sources that I'm sending: "Can these numbers possibly be true?" But the Liberals are more defiant. They think they've done enough to hold the likes of Hornsey & Wood Green, Cardiff Central, and more besides. 
22:21: If there's any Labour politician who could put a brave face on these numbers, it's the bombproof Harriet Harman. The coalition has lost its majority, she says. In doubt whether they could carry on, she argues. 
22:15: "At this point in 1992, the exit poll put us in Downing Street," an optimistic Labour aide texts. 
22:11: We'll get our first idea of the accuracy of the exit poll when Nuneaton (CON) declares at one. It's one of Labour's lowest-hanging targets and they expect to take it. Expected to take it at any rate. 
22:09: Michael Gove is on the BBC looking like the cat that's got the cream. This is awful. 
22:06: The Tories and the Liberal Democrats have 326 seats between them – a majority of just one. 
22:04: The exit poll was bang on in 2010, although it underestimated the Liberal Democrats by one seat. 
22:02: Exit poll has Tories on 316 seats, Labour on 239, the SNP on 58, the Liberal Democrats on 10 Ukip on 2. 
21:57: If you want to know what happens when, and what to look out for, here's a handy guide, so you'll know exactly when you can boil the kettle or open another bottle of wine – and when to stay in your seat. 
21:55: George notes that the last time we had two hung parliaments in a row was 1910. They're like buses – wait ages for one and two come at once!  (Sorry.)
21:48: We have our first caller of the night! It's Gary, from Liverpool:
"I just wanted to say that the pencil at my polling booth today had come loose from the piece of string. I reported it, but I don't know if anybody fixed it."
Speaking of Liverpool, there are two close races worth paying attention to on Merseyside: Wirral West (CON) where Labour are hopeful of taking out Esther McVey. But they better watch out they don't lose Wirral South (LAB) which the Tories have been pouring money into and are sounding bouyant about. 
21:41: George Eaton in the house! Our political editor has arrived. He is "cautiously optimistic".
"Exit poll's a big moment. That's when we discover whether the army of shy Tories that haunts us at night is real."
21:35: "Labour will be in government," one MP told me late last night. I wonder if they still agree. 
21:23: Chatter starting to filter through about today's results. Consensus seems to be that Labour is doing very well in London and pretty well in Wales, but are braced for disappointment elsewhere. The Liberal Democrats meanwhile, think they will outperform expectations in Scotland – polls suggest that all of their MPs could be wiped out north of the border. The Tories, meanwhile, are bullish about their hopes of holding out in "new" towns like Milton Keynes and Harlow. 
21:16: We don't know much yet but we do know that it will be another depressing election for gender equality. The IPPR's Giselle Cory has the latest:
This election will have been a let down for women – even before the results have come in. Only 26% of prospective parliamentary candidates are women. This is likely to translate into a Parliament that has a very similar gender breakdown to that of the one just ended (23 per cent female).

Female representation is not rising significantly across the board. Labour has the lion's share of both incumbent and prospective female MPs, at one in three. The Conservatives and Lib Dems fall behind at one in six and one in eight respectively for incumbents, and one in four for prospective candidates. A large part of the difference between the parties is accounted for by the use of all-female short lists by Labour. This suggests that leaving it all to chance is not likely to get us very far."
21:12: Polls close in under an hour – shortly after that we'll have the exit poll, which should give us a goodish idea of what the result will be. My colleague Harry explains in greater detail:
An exit poll works by asking people how they have voted, rather than how they will vote. People have been dispatched to 140 polling stations around the UK, stations thought to be representative of the constituency they're in. Every nth person who turns up at one of these polling stations, say every 10th, is then asked how they voted as they leave.

These answers, from those who do answer, are collected and sent back to the exit poll room. Almost no one knows where this room is. The five men stowed away inside it then start to analyse the results, looking for patterns."
But there's a fly in the ointment this time. The SNP's surge and Ukip's strength in the east of England means that more polling stations are being used – crucially, as the exit poll measures not numbers of votes but the change between parties, there will be more guesswork involved here than elsewhere. Privately, those closely involved with putting it together are confident of getting the Tory figure right – but less bullish about their ability to accurately gauge the SNP, the Liberal Democrats and Labour. 
21:09: I take it back about Sky. Graphics are very good, simple and easy to understand. They're forgiven for that whole Killers thing.
21:04: Those of you who like the Killers and disagree with my terrible opinions – please e-mail me at stephen.bush@newstatesman.co.uk with the words "Liveblog" in the title. And also just to say hi/complain about queues at your polling station/etc. 
20:59: I'm declaring Sky News the loser of the battle of election programming – they have been using the Killer's awful song "Human" to play themselves in. 
20:55: Good evening, and welcome to the New Statesman's general election liveblog.
I'm Stephen Bush, and I'll be your host until the small hours of the morning. Polls close in an hour. I'll be guiding you through the results, gossip, and so on until then. (Press "refresh" for the latest updates) We've also got a handy guide to what declares when, plus what it all means, so you'll know when's safe to make a cup of tea/open another bottle/rush to the shops/go to the loo. Read that here.