Thursday's Commons debate on the riots on England's streets was notable for the collective avoidance of any attempt to answer the "why" question. The left/right, austerity/broken Britain arguments that had played out in the papers and on our television screens since the weekend were deemed politically toxic by the time Parliament was recalled.
Instead, attention turned to the police and an apparent failure of leadership. The Prime Minister led the baton charge accusing police chiefs of using the wrong tactics and implying that the police accepted this analysis. David Cameron wasn't alone. Backbencher after backbencher, recalling events of Sunday, Monday and Tuesday nights, demanded plaintively "Where were the police?"
Yet three opinion polls suggest that the public don't share the politician's discontent with the boys in blue, rather it is the politicians themselves that have come up short.
First a YouGov poll published on Wednesday asked how "well or badly" Cameron, London mayor Boris Johnson and the police had dealt with the "recent riots in London and other cities". Only the police received a positive net rating. If that support can dismissed as simply empathy for the "bobbies on the beat" in the same way that there is overwhelming public support for "our boys" even during unpopular military misadventures, consider an ICM poll for the Guardian.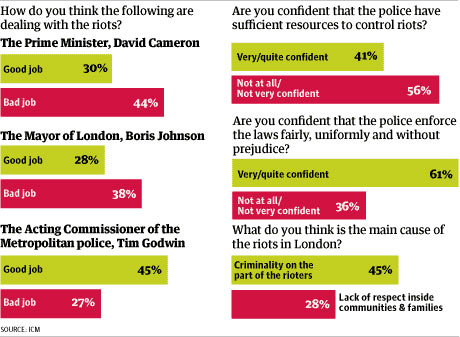 While Cameron and Johnson again were given negative net ratings (-14 and -10 respectively), acting commissioner of the Metropolitan police Tim Godwin received a +18 rating. If the public share Cameron's view that the police chiefs handled last week's events badly you would expect a negative rating for the nation's most senior policeman.
Finally, a ComRes poll in this morning's Independent underscores these sentiments. Asked whether they thought "David Cameron had failed to provide the necessary leadership to take control of the rioting in London early enough", 54 per cent of respondents agreed. And asked whether "cuts to police numbers nationally must be reversed by the Government in the light of this week's rioting", 71 per cent agreed.
Hugh Orde's withering attack on an impotent Home Secretary on Thursday night were only tempered slightly by his gushing words for Theresa May on Friday. It's clear that the police are furious that they are taking the blame. For now, public sympathy is with them.