Give Me Everything You Have: on Being Stalked
James Lasdun
Jonathan Cape, 224pp, £14.99
In James Lasdun's marvellously creepy novel The Horned Man, we meet Lawrence Miller, a middle-aged Englishman who, like his creator, lives in the US and teaches at a college in the New York area. Such colleges, in Lasdun's black satire, are forcing houses of guilty hypocrisy about sex. Miller serves on a sexual harassment committee and proves himself more than willing to censure fellow teachers who "cross the line" with their students. Yet as the novel progresses, it becomes clear that Miller's conscious virtue is only one half of a split personality, whose other half is, by a strict Freudian logic, all the more depraved for being so totally repressed. This other half, the reader gradually figures out, is a wife-beating, stranger-stalking, paranoiac murderer, whose deeds even Miller struggles to explain: how can the same mind contain such enlightenment and such evil?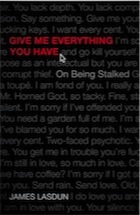 The Horned Man is, in its nightmarish way, a convincing study in male sexual guilt. The more you try to hide the horn, Lasdun suggests, the more grotesquely tumescent it will become. Indeed, that kind of guilt – the unease of a highly civilised mind as it ironically parries its own drives – is a keynote of Lasdun's work. You can see it again in the stories of It's Beginning to Hurt, above all in short sketches such as "The Woman at the Window". In this tale, an Englishman in New York is hailed on the street by a woman who claims to be locked in her apartment. Warily, the man agrees to break down the woman's door and, once he does so, he is tempted to turn rescue into seduction; but, somewhat abashedly, he tames himself and walks away. The second half of the story contains the pay-off: the woman, Lasdun shows, pulls this same trick regularly in order to attract strange men. Like a Manhattan Lorelei, she is trying to suck men into the whirlpool of desire, where they will be consumed.
Only a reader somewhat familiar with Lasdun's earlier work – in addition to fiction, he is also an accomplished poet and screenwriter – will fully appreciate the horror of the story he has to tell in his new memoir, Give Me Everything You Have. For the events of Lasdun's life starting in 2007 have exactly the lurid, parable-like quality of The Horned Man. A few years earlier, he writes, he had taught a fiction workshop for graduate students, in which the stand-out writer was an Iranian-American woman in her thirties, whom Lasdun calls Nasreen. The class ended, time passed, and then Nasreen got back in touch with him, asking his help in finding an agent.
Impressed by her novel-in-progress, an autobiographical work about the 1979 revolution in Iran, Lasdun helped her and began a friendly, at times mildly flirtatious email correspondence. But, he makes sure to point out, he never allowed it to become openly sexual. He is a devoted husband and father with no interest in straying and when Nasreen makes inappropriate suggestions – for instance, "proposing to smuggle herself into my roomette" during a train journey Lasdun was planning to take – he realises: "Something more explicitly discouraging than a mere tactful silence was going to be required of me."
Lasdun, in other words, has all the conscious, cautious rectitude of Lawrence Miller dealing with his female students. You can imagine his sense of dread and recognition, then, when Nasreen begins to invent for him an alter ego, compounded of her own fantasies, obsessions and hatred, that is as wicked as Miller's. In emails sent at the rate of dozens a day, she elaborates a bizarre fantasy in which Lasdun commits all the sins he has taken care to avoid. Nasreen accuses Lasdun of sleeping with another student in their workshop, leading him to discriminate against her. Then she insists that he stole ideas from her novel and sold them to other writers. Then she claims that the story "The Woman at the Window" – which, Lasdun explains, was inspired by something that really happened to him in his early days in New York City – is based on her.
As her fantasies grow more florid, Nasreen's emails – which Lasdun reproduces in the book – become violently profane: "I think this is called verbal terrorism," she acknowledges in a rare moment of lucidity. They also, with a dismal inevitability, become anti- Semitic. The agent and editor to whom Lasdun referred her were both Jewish, as is Lasdun; to Nasreen, this makes them natural players in a Jewish conspiracy to defraud her. "I think the Holocaust was fucking funny," she writes, and, "How fucking crazy Jews are these days," and, "Do you have to be the stereotype of a Jew, James?" Eventually, Lasdun writes, she makes her way to "one of those words that scorch everything they come near. The word is 'rape'." "I say if I can't write my book and get emotionally and verbally raped by James Lasdun, a Jew disguising himself as an English-American, well then, the Holocaust Industry Books should all be banned as should the films," Nasreen rants.
Poison pen letters are nothing new. What makes Give Me Everything You Have a cautionary tale for the 21st century is the way that email and the internet make it possible to give such slanders instant, worldwide circulation. When Nasreen begins to repeat her accusations in the form of reviews of Lasdun's books on Amazon, he has a sense that his very being in the world is under siege:
An ordinary negative review is depressing, but it doesn't flood you with this sense of personal emergency, as if not only your book but your life, or at least that large aura of meaning that accumulates around your life and gives it value, is in imminent and dire peril. Call that aura your "character", call it your "good name", your "reputation", your "honour". Whatever it was, as I read the review on my screen I seemed to be seeing, as if through a powerful medical instrument, the first stages of some irreversible damage spreading into this nebulous yet indispensable entity.
Seen in a different light, or by a different victim, being stalked in this way might appear as just a piece of very bad luck. Yet it is striking how little credence Lasdun gives to the possibility, which will announce itself to any reader, that Nasreen is simply insane – a paranoid schizophrenic whose fantasies randomly focused on a man who happened to cross her path. If Lasdun had seen it that way, he might well have suffered less; but he would not have been able to write a book such as Give Me Everything You Have. For a writer, an experience only becomes an inspiration if it finds a ready welcome in his mind – if it fits into certain patterns of expectation and desire and dread that are already present.
It is this willingness to appropriate his worst experience that shows Lasdun's true courage as a writer and that enables him to turn his book into something more than just another memoir. As he meditates on his relationship with Nasreen, Lasdun is drawn to works of literature that feature themes of sexual guilt and secret complicity. His refusal to respond to Nasreen's sexual overtures seems to have ignited her mania; this makes Lasdun think of Sir Gawain and the Green Knight, in which Gawain's rebuff of a seductive queen goes along with a partial ­acquiescence in lust. As he crosses the US on a train, he thinks of Patricia Highsmith's Strangers on a Train, another story of stalking, in which an upright man becomes the secret accomplice of a killer.
In each case, it is the impossibility of true innocence that obsesses Lasdun. In a refinement of scruple that can only be called morbid, he wonders if his refusal to feel any compassion for his stalker is the reason why he deserved to be stalked: "Perhaps if I could summon such feelings, the great sense of injustice lodged inside her, whatever its source, would stand a chance of being salved." Finally, thankfully, Lasdun refuses this kind of guilt: "I feel . . . confronted by something unassuageable and beyond all understanding: a malice that has no real cause or motive but simply is."
The element of Nasreen's malice that proves most troubling for Lasdun – and therefore most stimulating – is her anti-Semitism. The son of Jews who joined the Church of England, Lasdun describes himself as having only a tenuous and conflicted sense of his Jewishness. However, like many Jews before him, he finds that his subjective experience of being Jewish makes absolutely no dif­ference to the way he is perceived by an anti-Semite.
What is particularly disturbing is the way Nasreen's hate messages draw on anti-Semitic tropes that became prevalent during the George W Bush years. Nasreen instinctively understands that "neocon", for instance, is an anti-Semitic code word. In her messages, Lasdun is seen as part of a Jewish conspiracy that begins by stealing her work and ends by starting the Iraq war, invading Gaza and inventing the "Holocaust industry".
Lasdun sees himself as a singularly inappropriate target for such abuse – "I am not a supporter of Israel's military policy, let alone any kind of Zionist," he writes. But the last section of the book finds him travelling to Jerusalem, needing to find out more about the Jewish identity and the Jewish state for which he is, willy-nilly, held responsible. He begins to awaken to the prevalence of the kind of anti-Semitism Nasreen spouts: "There is something uncannily adaptive about anti-Semitism: the way it can hide, unsuspected, in the most progressive minds."
In this way, Give Me Everything You Have joins a short list of insightful books about Jewish experience and anxiety in the post-9/11 world, along with Howard Jacobson's The Finkler Question and Philip Roth's The Plot Against America. At the time of writing, Lasdun concludes, Nasreen's campaign of terror has grown more intermittent but it continues. In producing this book, however, he has at least regained control over his public image and become once again the authority on his own life. The most important lesson here is that everyone needs this kind of control – and that, in the age of the internet, it is shockingly easy to lose.
Adam Kirsch is a poet and critic. His most recent book is "Why Trilling Matters" (Yale University Press, £20)