Beltway Briefing
The top five stories from US politics today.
by Samira Shackle Published
1. Michele Bachmann is just as well-known for her gaffes as fellow Tea Party icon Sarah Palin. This morning, she defended herself on CNN's American Morning show.
"People can make mistakes and I wish I could be perfect every time I say something, but I can't," she said. "But one thing people know about me is that I'm a substantive, serious person and I have a strong background."
She also explained her recent slip up, when she said of her hometown that "John Wayne was from Waterloo" and "that's the kind of spirit that I have, too." The actor was born nearly 150 miles away, although the serial killer John Wayne Gacy Jr. lived in Waterloo at one point. She told CNN that these comments "were just misspeaking", and she meant she identified with his patriotism.
Unfortunately, she also managed today to claim that John Quincy Adams was a founding father on ABC's Good Morning America (he was a president, but not a founding father).
2. Mitt Romney's Utah advisers are reportedly attempting to get the date of the state's Republican presidential primary next year moved from late June to earlier in the spring, because it might play a bigger role in the nomination process.
The Salt Lake Tribune's Robert Gehrke writes: "If the Romney camp is successful, it could set up an early showdown between Romney, chief of the 2002 Olympics in Utah, and former Gov. Jon Huntsman in Huntsman's old backyard -- and it is a contest that, according to recent statewide polls, Romney would likely win."
However, he also notes that it could also end up costing taxpayers between $2.5 million and $3 million to stage the primary. Holding it on 26 June 2012 as planned would mean it could be held on the same day as the statewide primary election for other Utah offices. Despite this extra cost, the change has not been ruled out.
3. Rod Blagojevich, the former governor of Illinois and one-time presidential hopeful, has been found guilty of corruption. After 10 days of deliberation, a jury found him guilty of 17 charges, including trying to sell or trade President Barack Obama's old Senate seat and attempting to shake down executives for campaign cash. He was acquitted of another bribery charge, and the jury was undecided on charges of attempted extortion. The convictions carry a combined maximum prison sentence of around 300 years, although the judge is expected to sentence him for around 10.
As governor of Illinois, it was Blaojevich's responsibility to name a senator to replace Obama after he was elected president in November 2008. He planned to sell the seat. Federal agents were tipped off and recorded hundreds of hours of tapes. He was arrested two years ago, but an earlier trial ended in deadlock.
4. Bristol Palin said today that her mother "definitely knows" whether she will run for president next year. "We've talked about it before," the 20 year old told Fox and Friends. "Some things just need to stay in the family."
This comes on the same day as the older Palin travels to the key primary state of Iowa for the premier of Undefeated, a documentary about her time as governor of Alaska. This has renewed speculation about whether she will put herself forward for the presidency.
5. The powers of social media have long been something that those at the top of the political game wish to harness. Tim Pawlenty has become the latest to try, with the somewhat bizarre Pawlenty Action.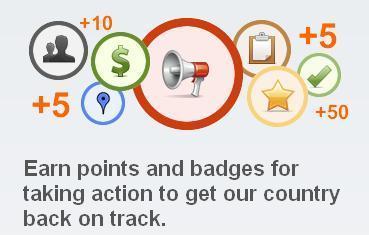 Jason Linkins at the Huffington Post is unimpressed:
See, back in the day, the average voter might sign up with a presidential candidate because of values they had in common and the shared belief that grassroots action could facilitate sweeping political change. But the Pawlenty campaign understands that deepening the connection between campaign and volunteer requires much more. That is, it requires points and badges!
You get 10 free points for signing up to help "T-Paw" (yes, the website really refers to him as that), 10 for connecting your Facebook, five for connecting your Twitter, and so on. It's not clear exactly what you can do with all your points, but perhaps that is besides the...point.