Beltway Briefing
The top five stories from US politics today.
by Samira Shackle Published
1. Will Rick Perry put himself forward for the Republican candidacy? The Texas governor is said to be very close to announcing his bid. As a mainstream conservative who is also well liked by the evangelical and Tea Party factions of the party, he has the potential for widespread appeal. At the end of his speech at the Republican spring conference this weekend, he received a standing ovation and the audience chanted "Run, Rick, Run!"
Perry, a former air force pilot, is a good speaker and was even better received than other popular figures at the conference, including Newt Gingrich and Michele Bachman, who has already announced her candidacy. Known as an all-American tough guy, he jogs with a pistol in his belt and shot a coyote during a run last year.
The Wall Street Journal reports that his aides are currently looking at the problems he would face as a late entrant, such as raising sufficient funds. Romney and Bachmann: live in fear.
2. Ron Paul is celebrating his victory in a straw poll taken at the same weekend conference. The Texas congressman -- who at 75 says he is not too old to be president -- gained 612 votes, despite not matching this success in nationwide polls. This rating put him far ahead of former Utah governor Jon Huntsman, who got 382 votes in the straw poll and is expected to join the race later this week.
Here is Paul on NBC's Today, saying that his victory shows that he appeals to people who are fed up with US involvement in "endless, undeclared, unwinnable wars dumped on the young people", and concerned about the economy.
, 
3. Bachman has cemented her reputation as a formidable fundraiser. Her latest filing with the Federal Election Commission, the Republican presidential hopeful had $2.8 million cash on hand. By comparison, the veteran politician Paul has $1.6 million. She took in $13.5 million in the 2010 election cycle, making her the most prolific fundraiser in the House.
Interestingly, the vast majority of this is from individuals making relatively small donations, which is in keeping with her position as the grassroots, Tea Party candidate. Of the $1.7 million she reported raising last quarter, all but $1,500 came from individuals. The average donation was just $619.34. Her individual contributions are now nearly 100 per cent of her total funds, compared with just over half in 2006.
The Washington Post attributes this to "money blurts", which create excitement and attract a high volume of small donors:
[Bachman has] made a specialty of raising money in the wake of bold and well-placed remarks. Shortly after accusing President Obama of having "anti-American views" during one cable-news appearance, for example, Bachmann took in nearly $1 million.
Will other candidates be inspired to make similarly lucrative, controversial statements?
4. A study by a Facebook advertising firm appears to suggest that the best bet for Republican candidates trying to attract online clicks is to focus their ads on President Barack Obama, rather than on issues such as the economy.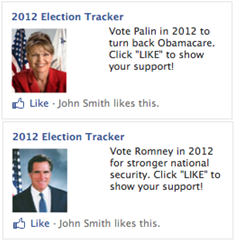 It also showed that Sarah Palin is still a bigger magnet for online page views than any of the other announced or potential Republican presidential hopefuls -- although this could be because she has greater recognition. The Huffington Post has more details on the data.
5. Senator John McCain angered the Latino community by claiming yesterday that illegal immigrants were responsible for starting some of the huge fires that have devastated Arizon in recent weeks. He said there was "substantial evidence" that migrants set fires to keep warm, signal to others, or distract border guards, although he didn't say what this evidence was.
This is good news for the Obama administration, which is engaged in an aggressive push for Hispanic support ahead of 2012. After successes with increasing black voter turn-out in 2008, Obama's team is trying to raise historically low rates of Hispanic registration and turnout in at least six swing states.
However, according to Politico, Obama has angered one national Hispanic organisation by missing their annual conference for the third consecutive year, despite promising before his election in 2008 that he would return as president.
Juan C. Zapata, a Florida Republican and chairman of the group's educational fund, told Politico: "He sent a very clear message to the Hispanic community that, 'I want your support on the campaign, but I am not willing to do anything to earn it'."